Welcome To Intel XTU 2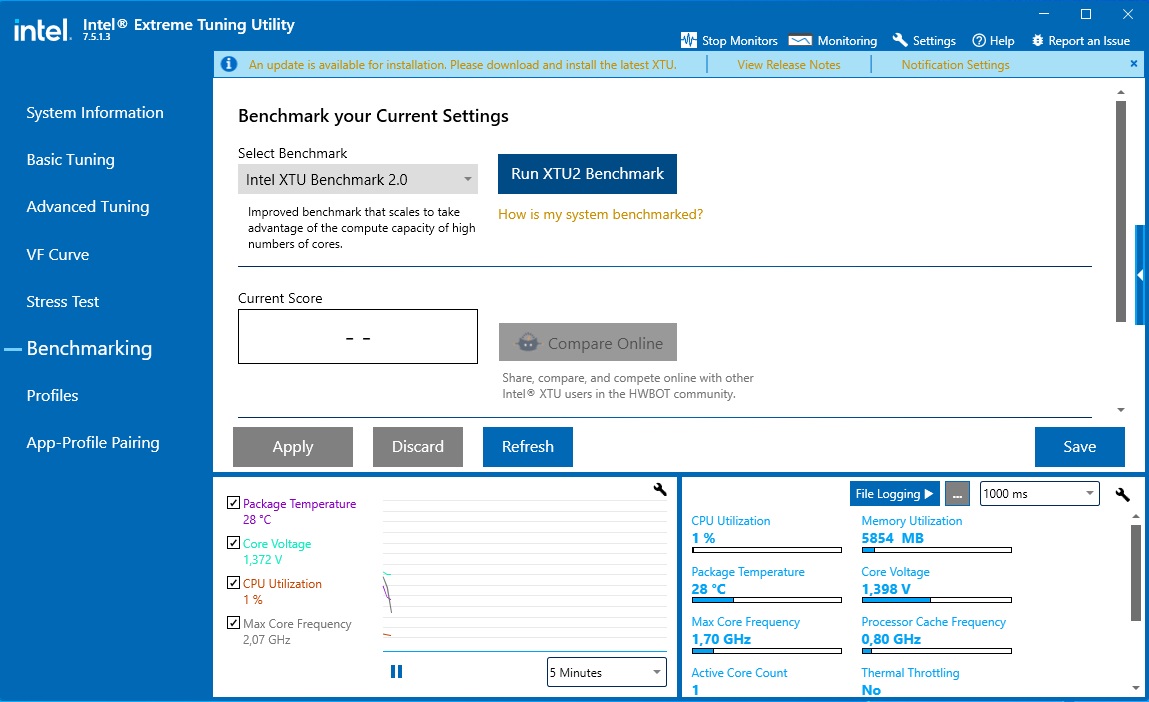 Welcome to Intel XTU 2 and its integration at HWBOT. In a joint effort between Intel and HWBOT, we present you a fully integrated overclocking software application which allows you to analyze your own configuration, share and find overclock settings from users around the world and hype your own achievements through social media. Intel XTU and the HWBOT integration aims to facilitate overclocking for beginners and novice users as well as give advanced overclocking community and its power users a platform to show their overclocking skills and knowledge.
Here are a couple of quick links for your convenience:
Your XTU 2 Profiles: XTU Zone > My Profiles
What is the Intel Extreme Tuning Utility 2 ?
Intel Extreme Tuning Utility 2 ("XTU") is an software application that allows you to finetune the settings of your Intel K- and X-sku processor. Using the various frequency, voltage and other knobs you can fully customize your configuration in terms of power consumption and computing performance. Intel XTU is available for download at the Intel Download Center and can be loaded on any Intel system with a 2nd Generation Intel Core processor and a chipset that supports overclocking.


XTU 2 and HWBOT Integration - YOUR Helping Hand For Overclocking!
The XTU software application has been available for download since Nehalem, but only as standalone overclocking tool. Now XTU 2 is here, featuring a revised integrated benchmark with added security for more stable score outputs. Sporting the same integrated features, XTU 2 allows you to explore the world of overclocking at your own pace, with downloadable overclocking profiles as a holding hand to guide you through the first steps. There are three main aspects to the integration:
1) Share you system specifications and overclock
2) Compete in Intel XTU rankings and competitions
3) Analyze your system and learn how to improve your overclock
In the next sections, we will go over the three main features of the XTU HWBOT integration.


Getting Started With Overclocking!
The main objective of integrating the features of the XTU overclocking software utility and the HWBOT community website is to help people who are new to overclocking. Through the Analyze functionality, the HWBOT community can help you understand the basics behind overclocking, give you an indication of how good your overclock is and provide you with tips and hints on how to improve your overclock through the XTU profile sharing.
How does it work?
To get started, open the XTU 2 software application and go to the Benchmark tab. Click Run to have XTU 2 test your system configuration - XTU will now load a benchmark based test in the background and check the performance level of your system. When the benchmark is finished, your system will have a score. To continue, click Compare at HWBOT. This will bring you to the online part of the XTU experience.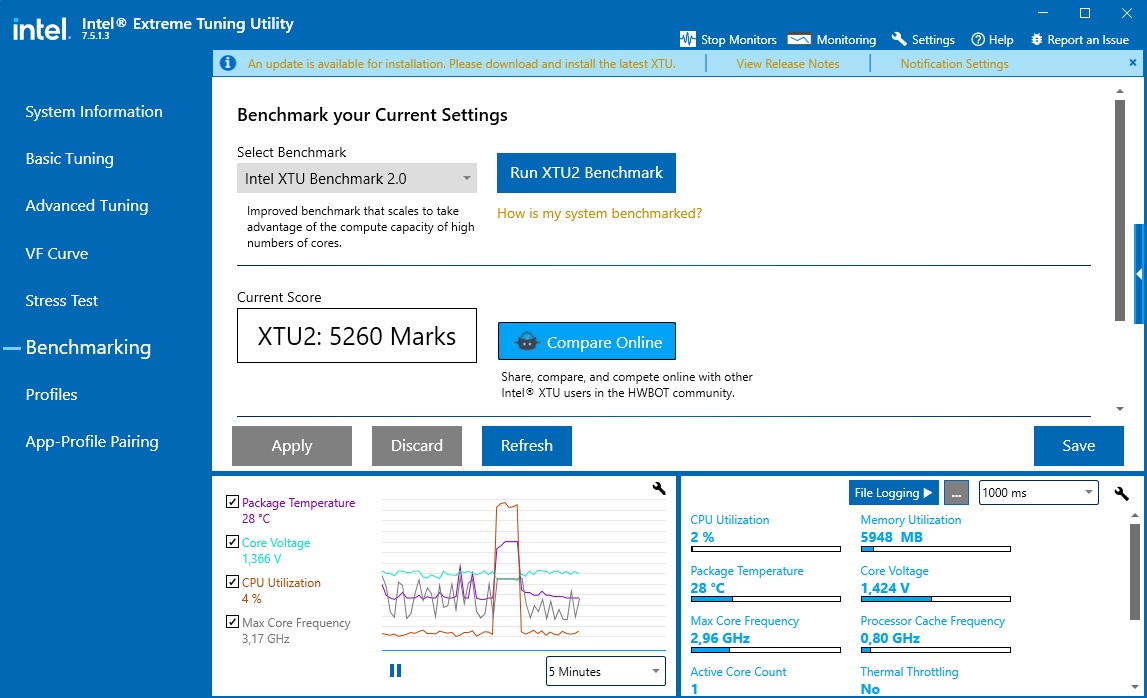 Once you have opened the HWBOT site and logged in to your account, click on Analyze. The HWBOT engine will now check the various parameters of your (automatically) uploaded profile such as hardware configuration and performance index. You will be forwarded to a Analysis page for your XTU profile. This page contains a chart to visualize the quality of your overclock. On this page, you can select any profile to download. Hoover over the dots on the XTU line and click to select. Below the graph, you will then find a link to download the profile.
Good luck!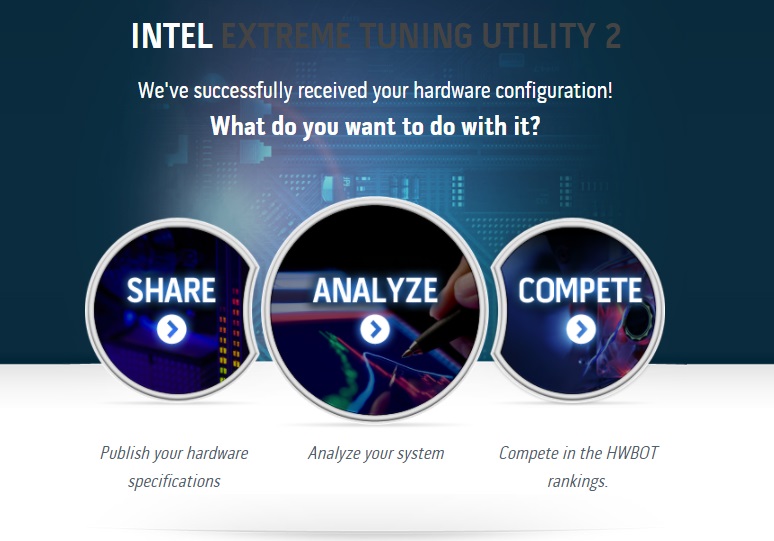 Share Your Configuration
The Intel® Extreme Tuning Utility makes it very easy to share your system ánd overclocking configuration with your friends and family. Simply run the benchmark and click Compare Online. Choose for the Share Configuration option and you get a personalised page for your system.
You can easily share this page via Facebook and Twitter!

Join The World of Competitive Overclocking
The Intel® Extreme Tuning Utility comes with an integrated benchmark to estimate your system's performance level. Next to serving as a point of reference to compare the various overclocking profiles, the benchmark score is also used to keep track of who has the fastest system. Via XTU 2 , you can easily participate in the HWBOT XTU 2 benchmark rankings and, who knows, grab a golden cup in the process!
To join the XTU 2 benchmark rankings you can simply run the benchmark, click Compare Online and continue by clicking Compete on the HWBOT website. Your score is added to the benchmark ranking.
Save Your Profile or Score.
In order to save a profile or benchmark score to later upload to HWBOT, go to the Benchmark tab and click Run. When the benchmark popped up a score, click on Safe on the right side of the application, right under the profile settings list. XTU 2 will now save the profile with score within the software application. Once saved, go to the Profile tab to export the profile to your local disk.
You can uploaded the exported profile here: http://hwbot.org/submit/benchmark/xtu2/