After dominating Stage 1 of the "Corsair DDR5 Invitational" Greek Overclockers Stavros Savvopoulos and Phil Strecker from Team Overclocked Gaming Systems also grabbed first spot in both Stage 2 and 3.
Stage 2 featured all time classic SuperPi 32M, a benchmark where every MHz of ram and tightening the memory timings can just give one the edge to claim victory, albeit by a mere milliseconds.
Looking at the final results we see the top 5 within a second, the ASRock OCers had to throw in the towel as their boards apparently couldn't clock the Corsair Vengeance Memory as high as the ASUS, eVGA and Gigabyte motherboards with the current available bios version.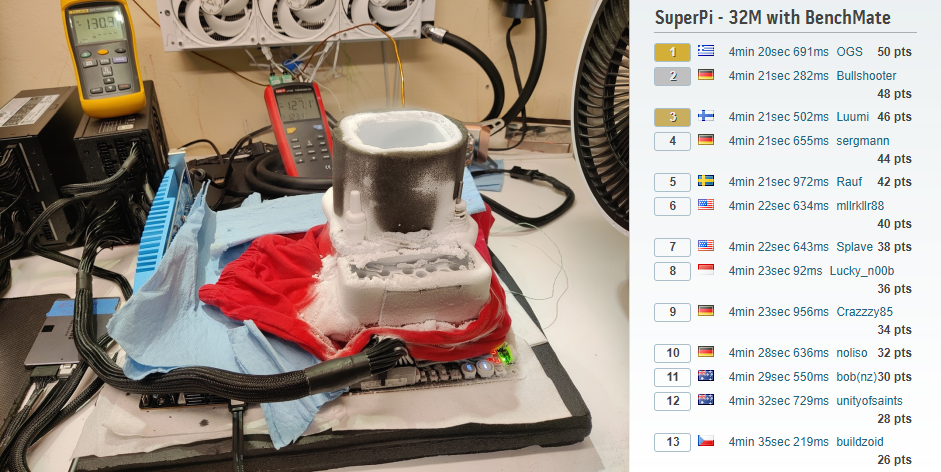 After Stage 2, Team OGS was comfortably in the lead with 100 pts, followed by Luumi with 92 pts and Bullshooter and Rauf in a shared 3rd spot with both 90 pts. Sergmann trailed the duo with just 2 pts.
If we look at the used motherboards by the aforementioned OCers:

- OGS - ASUS ROG Maximus Z690 Apex
- Luumi - eVGA Z690 Dark K!ngp!n
- Bullshooter - Gigabyte Z690 AORUS Tachyon
- Rauf - ASUS ROG Maximus Z690 Apex
- Sergmann - Gigabyte Z690 AORUS Tachyon
For Stage 3 Team OGS just had to finish in the top 5 to grab the overal win, though for spot 2 till 5 nothing was final. Benchmark of choice was AIDA64, though a few bugs were quickly discovered. So the participants had to agree on another benchmark. Y-cruncher 1B was picked out of the alternative proposed benchmarks. Proper AVX support was a must from both the used CPU and from the motherboard bios. Both the eVGA Dark and ASRock Aqua OC users were up to a real challenge here as their Biosses were not optimised for this. Nevertheless mllrkller88, Splave and Luumi put down some solid scores, but could never compete with the rest. This was especially a bummer for Luumi who could have consolidated in the Top 3.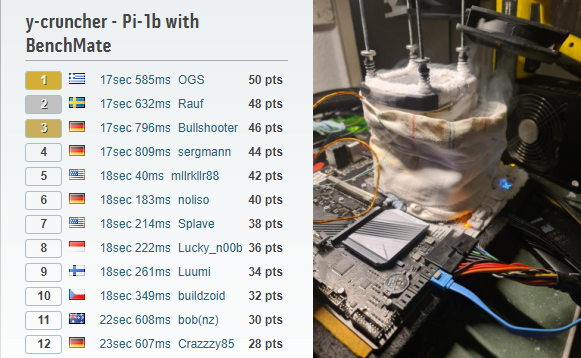 Y-Cruncher is not only about raw clocks, but also the platform stability plays a huge role here. Ofcourse the regular tweaks applied here and there will make a difference too. Team OGS snatching once more the top spot, closely followed by Swedish OCer Rauf. Bullshooter from Germany finished in 3rd spot. Leading to the below final ranking of the Corsair DDR5 Invitational:

A huge congratz to all participants, who played it fair, showing great sportsmanship and maxing out their platforms and the kindly provided Corsair DDR5 Vengeance memory sticks. The top 3 will be contacted for shipping details.
Big shoutout to Corsair for making the two competitions possible.