Today`s top benchmark scores.
Welcome back to our Motherboard Memory Lane series. This week we'll actually be looking at a platform that should remain pretty fresh in the memory of most overclockers - the relatively recent Intel Z170 platform. The Intel Z170 platform arrived alongside a brand new batch of Skylake architecture processors just under three years ago and remains a popular platform today. Let's once again take a look at the motherboards and processor models that were popular in this era, as well as a few of the most exceptional scores and submissions that were made by overclockers on HWBOT.
In the minds of most enthusiasts the newly arrived Skylake architecture processors replaced the previous generation Haswell and Devil's Canyon architecture chips. This due to the fact that its true predecessor, the Broadwell architecture, basically failed to turn up as a desktop PC option. For most us, Skylake replaced Haswell, just as Z170 replaced Z97.
The Intel Z170 platform officially landed on August 5th 2015, sporting a new CPU socket and a new line of CPUs. Aimed the mainstream PC market, Z170 was eventually joined by several other PCH variants that include the Intel H110, B150, Q150, H170 and Q170. The Z170, as with all Z-series PCH models, was aimed at the enthusiasts and was the only one (at launch) to support CPU multiplier and BCLK overclocking.
Continue reading
HWBOT Returns to Taipei with Extreme OC Workshops, a Social OC Gathering and Competitive Overclocking Contests
May 24th, 2017 - HWBOT, an organization regulating international overclocking competitions and rankings today officially announces activities and events planned for the fourth leg of the HWBOT World Tour 2017. The event takes place in Taipei, Taiwan at Computex 2017, one of the biggest technology trade shows in world.
Highlights of the Taipei - 2017 event include Extreme Overclocking Workshops for attending technology media, a social Overclocking Gathering where overclockers can meet up and enjoy the hobby together, plus the Taipei 2017 World Championship Qualifier contest, hosted in conjunction with the G.SKILL World Cup 2017.
"It's great to be back in Taipei for Computex 2017, arguably the spiritual home of Overclocking in terms of the hardware industry that supports and nurtures it," commented Pieter-Jan Plaisier, Director at HWBOT. "We are working with partners G.SKILL, Intel, Seasonic, and TechnikPR to make it the most successful Computex ever, putting Overclocking at the center of one of the most important technology events of the year."
Read the full press announcement here on the HWBOT World Tour website.
Here's a quicky update of some of the submissions we've seen in the last couple of days K|ngp|n has been continuing his work squeezing the most out of Nvidia's Pascal GPUs, taking down the 3DMark Time Spy Global First Place ranked score for a single GPU. In the dual core CPU stakes, we find that Italian rsannino and US overclocker Splave continue to compete for dual-core dominance using an Intel Core i3 7350K. Let's check out the details.
The new fastest ever score in the 3DMark Time Spy benchmark using a single graphics processor now stands at 13,728 marks. The score was made using an Nvidia GTX 1080 Ti card configured with the Pascal GP102 chip clocked at 2,569MHz, a huge +73.58% beyond stock settings. Graphics memory was configured at 1,607MHz (+16.79%). In terms of CPU Vince used an Intel Core i7 6950X clocked at 5,149MHz (+71.63%). Interestingly, we believe the card used was an Nvidia Founders Edition modded with the latest iteration of EVGA's E-Power board. Currently the nearest competitor to k|ngp|n in the 1x GPU Time Spy rankings is $@39@ from Greece who sits some way back with a score of 13,448 marks. Nice work as always Vince.
Splave and rsannino have been competing with the Intel Core i3 7350K processor for a couple of weeks now. Until recently it looked like things had reached an impasse with both overclockers tied on 1,221 marks on the XTU benchmark. It didn't last too long however as rsannino posted a score of 1,224 marks pushing the Kaby Lake i3 chip to 6,700MHz (+59.52%) using an ROG Maximus IX Apex motherboard. Splave was quick reply however posting (perhaps a backup?) score of 1,227 marks just hours later. This battle might just go on for a bit. I sure hope so.
You can check out all the scores in the links above as well as in the k|ngp|n, rsaninno and Splave profile pages.
A few week ago we announced the official rules for the forthcoming G.SKILL OC World Cup 2017 contest. The contest will take place during Computex 2017 in Taipei, Taiwan and will feature six of the world's most feared and respected extreme overclockers. Get a load of this lineup; rsaninno (Italy), Dancop (Germany) RULE (Italy), Xtreme Addict (Poland) Alex@ro (Romania) and Splave (US).
In that post we announce three of the benchmarks that have been selected for contest, those were DDR4 Frequency, Geekbench3 Multi Core 6.5 GHz and 3DMark11 Physics 6.5 GHz. An additional 4th benchmark was also required, but just to make things a little more interesting, we decided to leave the final decision to the HWBOT community with a poll were you guys got to vote for which benchmark you preferred.
HWBOT members were asked to choose from the following three benchmarks; Cinebench R11.5 at 6.5GHz, Cinebench R15 at 6.5Ghz or Intel XTU at 6.5Ghz. After a few weeks on the from page we have the following results:
- Cinebench R11.5 at 6.5GHz – 38 Votes (14.3%)
- Cinebench R15 at 6.5Ghz – 137 Votes (51.5%)
- Intel XTU at 6.5Ghz – 91 Votes (34.2%)
With more than half of all votes, Cinebench R15 at 6.5GHz will be the forth benchmark used at the G.SKILL World Cup 2017 contest. Don't forget that this year the G.SKILL World Cup winner will also collect the additional accolade of being the HWBOT World Championship – Taipei Qualifier, which means he will have a place in the HWBOT World Championship at the end of the year. You can learn more about the G.SKILL World Cup here on the G.SKILL website.
The very latest edition of the GPU-Z utility is now available from TechPowerUp. This time we're treated to a pretty major overhaul that brings us to version 2.1.0. which features a new advanced tab feature. I'll let btarunr explain further:
TechPowerUp today released GPU-Z 2.1.0, a major update to the popular graphics subsystem information and diagnostic utility. Version 2.1.0 introduces the new Advanced tab, which gives you in-depth information related to your installed graphics hardware and software related to graphics and GPU compute, such as API-level features available to you. Information is presented as drop-down lists in the new Advanced tab. API features of DirectX, OpenCL, CUDA, and Vulkan are added.
In addition to the groundbreaking Advanced tab, GPU-Z 2.1.0 adds support for EVGA iCX technology, and can put out live sensor data from various parts of your EVGA iCX graphics card. There's also the usual addition of new GPU support, which now includes NVIDIA Tesla P100 PCIe, Tesla M10, Quadro P5000, Intel HD Graphics 615, and AMD Radeon HD 8350G. In addition, there are various user-interface bug fixes and improvements.
Here's the full changelog for version 2.1.0:
-Advanced Tab added, with additional on info on VGA BIOS, CUDA, OpenCL, DirectX, Vulkan
-Added support for EVGA iCX Sensors
-Fixed BIOS saving on GeForce 900 Series and newer, on 32-bit OS
-NVIDIA PerfCap Reason "Util" renamed to "Idle"
-Added retry option to "Rendering doesn't work over remote desktop" message
-When log file can't be written to, stop trying until re-enabled by user
-Fixed DirectX Support detection on old ATI cards (R600 and older)
-Added support for NVIDIA Tesla P100 PCIe, Tesla M10, Quadro P5000
-Added support for Intel Graphics 615
-Added support for AMD HD 8350G
Find the latest GPU-Z v2.1.0 utility from TechPowerUp here.
Today we going to take a look at each of the HWBOT Leagues to see which overclockers are currently leading in each. Let's kick off with a look at what's happening at the top the game and the Elite League on HWBOT:
Elite League – Dancop (Germany) - It's absolutely no surprise to see Dancop at the top of the Elite League at the moment. With a total of 3240.6 points that places him not only at the top of the Elite League rankings but also in the overall rankings too. In terms of World Records Dancop has Gold Cups in SuperPi 1M and Unigine Heaven Extreme with Silver Cups in 3DMark03 and Pifast, plus a five Global Hardware Gold Cups and several Silver Cups. In Hardware Points he has nine Gold Cups, six Silver and five Bronze Cups. He has also competed in recent OC-EPSORTS contests including some level-grade contests such as last year's G.SKILL OC World Cup 2016 Live Final. You can find all his achievements here on the Dancop Profile page.
Extreme League – $@39@ (Greece) - Just below the Elite we have the Extreme League with Greek overclocker $@39@ returning to form to power up the HWBOT rankings. He currently holds the World Record for 3DMark03 plus Global First Places in HWBOT Prime, 3DMark Time Spy, GPUPI 1B, wPrime 32M, wPrime 1024M and GPUPI for CPU 1B. Out of his twenty top Hardware Point submissions, eighteen of them are Gold Cups, the other two are Silver. He has also done very well in several Challenger Divisions contest on OC-ESPORTS including five contest wins. What can we say except wow! Find the $@39@ Profile page here.
Apprentice League – Menthol (US) - US overclocker Menthol tops the Apprentice League on HWBOT, a league for subzero overclockers that do not use either Cascade or LN2 cooling. Menthol's work, mostly with chilled cooling, has earned him fourth place World Ranked scores in 3DMark Time Spy and Catzilla 1440p as well as a Global Silver Cup in 3DMark Time Spy. He also has a ton of Hardware Points from pretty much every Intel 'K' SKU processor going back as far as Sandy Bridge. On OC-ESPORTS his work for the Republic Of Gamers Team has seen him earn plenty of points including the current ROG Showdown Team Edition contest. Check out the Menthol Profile page here.
Enthusiast League – kimandsally (UK) - Flying the flag for UK overclocking we have kimandsally. The Enthusiast League involves submissions restricted to ambient cooling. Indeed when it comes to water cooled system, kimandsally know what they're doing. This guys has a solid Global points haul due to his good work with the Intel XTU, 3DMark03, HWBOT Prime and several others. In Hardware Point terms he is doing very well with 4th Place Medals using Intel Core i5 6500, Core i5 6400 and Core i5 6100 processors. On OC-ESPORTS he has proved to be an able competitor in several contests including the HWBOT Team Cup and more recently, the GIGABYTE 2017 series contests. Find the kimandsally Profile page here.
Novice League – topyoyoguybest (US) - Novice overclockers are HWBOT members who have been with us for less than a year, but more than three months. US overclocker topyoyoguybest heads the league with some great Global Points in several benchmarks plus a good Hardware Points haul with a broad range of hardware being used since his arrival. His claim to fame however must be his recent wins in Rookie Rumble #40 and #41, plus his recent hard work for the /r/overclocking team in the ROG Showdown Team Edition contest. Check out the topyoyoguybest Profile page here.
Rookie League – JimJamJamin (UK) - Another r/overclocking team member currently heads the Rookie rankings with UK Overclocker JimJamJamin leading the way 599.3 points. The Rookie League is for Overclockers who have been with HWBOT for less than three months so we expect him to enter the Novice fray anytime soon. His Global points haul is solid with lots of good scores on a broad range of benchmarks. In terms of Hardware Points he's also benching a lot of hardware for a Rookie overclocker. On OC-ESPORTS he has competed in several recent Rookie Rumble and Ryzen Rumble contests as well as making some solid scores in Challenger Divisions III and IV where he finished 8th and 14th respectively. The JimJamJamin Profile can be found here.
Congrats and kudos to Dancop, $@39@, Menthol, topyoyoguybest, kimandsally and JimJamJamin for your current status as number one in your respective HWBOT Leagues. You can find the overall rankings for HWBOT here, as well as access to each of the leagues.
Last week we covered a video from the Actually Hardcore Overclocking YouTube channel where Buildzoid went through a step by guide for hard-modding a GT 730 graphics card. The motivation behind the video was that he wants to compete in the GIGABYTE Summer Spectacular Contest, a contest that requires combatants to use a GT 730 card and an Intel Core i3 7350K processor. Having finished his card mod he then spent several hours and many liters of LN2 trying to push his hardware as far as possible. The outcome is a Buildzoid extreme live overclocking session that lasts way over 3 hours. Well worth a watch for budding (and newbie) sub-zero overclockers.
The GIGABYTE Summer Spectacular contest is the latest in a series of contests sponsored by GIGABYTE that are hosted on OC-ESPORTS. There are three stages in the contest with GPUPI for CPU 1B in Stage 1, 3DMark Ice Strom in Stage 2 and Catzilla 720p in Stage 3. Obviously Stages 2 and 3 require overclockers to push the GPU, with hard-moddede VRMs being a great help. The idea behind the contest was to make it as accessible as possible to overclockers of all budgets. The Nvidia GT730 card generally retails for somewhere between $60-$70 USD which makes them a decent candidate for overclockers who want to try their hand at hard-modding for the first time. If the card ends up in the trash can, it's not going to ruin your day that much let's be honest. In fact by the end of the video, Buildzoid actually keeps raising voltages to intentionally kill the card. Ah what fun.
For less experienced Overclockers, this video from Buildzoid is a great watch. He talks continually throughout, sharing his thoughts and even answering questions that pop up on his live feed. You can check out the video from Buildzoid here on the Actually Hardcore Overclocking YouTube channel. You can also find all of his scores here on the Summer Spectacular contest page on OC-ESPORTS.
About ten days ago we noted how Greek Extreme overclocker $@39@ (pronounced Saega we think) had taken down a bunch of Global First Place scores including HWBOT Prime, GPUPI for CPU 1B, wPrime 1024M and wPrime 32M. The scores elevated $@39@ to the heady heights of seventh place in the HWBOT world rankings which is pretty incredible for a non-Elite level overclocker. Today however, we bring your attention to a few more impressive submissions from the prolific Greek that now sees him rise into fourth place in the rankings.
Over the weekend $@39@ submitted a score of 355,858 marks in the classic 3DMark03 benchmark, a new World Record score. The submission was made using an Intel Core i7 7700K 'Kaby Lake' processor clocked at 7,038MHz, a massive +67.57% beyond the chip's stock settings. The riog was based on an ASUS ROG Maximus IX Apex motherboard with system memory configured at 1,836MHz using 12-12-12-28 timings. In terms of GPU $@39@ used an Nvidia GTX 1080 Ti card with the Pascal GPU clocked at 2,544MHz (+71.89) and graphics memory clocked at 1,526MHz (+10.90). The next fastest 3DMark03 score is from Dancop with 353,600 marks using a Titan XP card.
Also adding to his current tally of 2,641.3 points we have Global First Place ranked scores in 3DMark Time Spy and GPUPI 1B. $@39@ used a Broadwell-E Intel Core i7 6950X processor clocked at 5,175MHz (+72.50%) plus a GTX 1080 Ti clocked at 2,580MHz (+74.32%) / 1,526MHz (+10.90%) to score of 13,448 points, the highest ever single GPU score. The rig was based on a GIGABYTE X99-SOC Champion motherboard with DDR4 configured at 1,515MHz (12-13-15-14). In GPUPI 1B the same rig was used to complete a run in just 8sec 857ms, also a Global First Place score for a single GPU.
It's interesting to note that $@39@ has been experimenting with a direct mounted delided CPU without IHS in recent sessions. It seems enhanced performance is possible, but benching without an IHS also brings a few unique challenges:
"Indeed no IHS benching helps with 8 threaded benches if you are very careful with it. But is not as easy as it looks. I had to modify my pot base a bit and also try to make the chip bend as little as possible. Sometimes while testing I could bench perfect high core frequencies but anything above 6g for cache was no go. Also some of the times with no IHS my CPU needed high DMI although i was benching 2D with GPUs in the last slot... As for single threaded 2D I did not saw any significant change in frequencies but maybe that depends on each CPU."
Check out the current HWBOT World rankings here. You can find all the scores in the links above as well as all of $@39@'s other submissions here on his profile page. Congrats on making 4th place!
A few days ago we noted how AMD had confirmed an AGESA update for the month of May which the company claimed could improve DDR4 memory support for Ryzen-based systems. Over the weekend the ASUS ROG team have taken advantage of the AGESA update, issuing two a new beta BIOSes for the popular ROG Crosshair VI Hero motherboard. The new BIOSes offer new multiplier options that should make it possible to hit memory speeds of 3600MHz and beyond.
The two new BIOSes are versions 9943 and 9945. According to posts from enthusiasts on the ROG Forum, 9945 is designed to systems that have more than 16GB of DDR4 installed. The new multipliers are as following; 3066, 3333, 3466, 3600, 3733, 3866 and 4000. Results will vary according to what kind of memory you are using (Hynix AFR vs Samsung B Die for example), but according to enthusiasts on the ROG forum 3,600MHz is now doable:
"With 1201 I was able to hit 3466ish, but never above that. With the new bios I finally got to my F4-3600C16D-16GTZSW rated 3600MHz with 16-16-16-16-36-1T. Took some doing, but what a treat. I need to get familiar with all these new settings that are available, but it should be a fun challenge. Thanks to AMD for the new AGESA and the Asus team for the new EUFI's!"
You can find links to the new BIOSes here on this ROG forum thread.
[Press Release] G.SKILL International Enterprise Co., Ltd., the world's leading manufacturer of extreme performance memory and gaming peripherals, is thrilled to announce its largest annual LN2 extreme overclocking events at Computex – the 6th Annual OC World Record Stage 2017 and 4th Annual OC World Cup 2017. In addition, an Extreme OC Workshop event co-hosted with HWBOT.org at the G.SKILL booth this year. These 3 events will be held throughout Computex week at the G.SKILL Computex booth in the Nangang Exhibition Hall, 1F, Booth J0806.
6th Annual OC World Record Stage 2017
The G.SKILL OC World Record Stage event has reached its 6th year in the running and has become one of the biggest annual overclocking events in the community. This year, 18 world-class professional overclockers will be attending and aim to break as many benchmark records as possible, showing off the astounding performance of the latest hardware from Intel, leading motherboard vendors, and G.SKILL.
4th Annual OC World Cup 2017 – $10K USD for the Champion
G.SKILL OC World Cup awards the highest single cash prize in overclocking competition history. The contest rules and format are specifically designed for extreme memory overclockers. The top 6 extreme overclockers qualified from the online qualifier competition stage on HWBOT will compete live at the G.SKILL booth and demonstrate advanced LN2 overclocking skills at its finest. The Grand Final OC Champion will be walking away with the ultimate $10,000 USD cash prize.
Extreme Overclocking Workshop
This year, in addition to the two G.SKILL annual overclocking events, G.SKILL joins forces with HWBOT and co-hosts a LN2 extreme OC workshop at the G.SKILL booth. This workshop gives Computex visitors the rare opportunity to experience LN2 overclocking and try to achieve record-breaking high-speed CPU frequency or DDR4 frequency, guided step-by-step by professional overclockers.
Read the full announcement from G.SKILL here.
In Week 20 of 2017, we received 3611 benchmark results from 909 registered overclockers around the world. The majority of the submissions is coming from Rookie overclockers representing 59% of the active community. They were responsible for 38% of the submissions. We had a peek at the most valuable submissions in a breakdown per league.
In contrary to the past couple of weeks, it's been a relatively quiet week in terms of activity. This reflects partially in the amount of golden cups that feature in the overview this week: only one! Though it has to be said that both OGS and Marc0053 are awarded a silver cup for a score that matches the top score in their respective categories. The one golden cup this week goes to an impressive World Record by $@39@ from Greece. The 3DMark03 World Record now stands at 355858 marks and was set with the GeForce GTX 1080 Ti at 2544/1526 MHz and is more than 2,500 points higher than the previous best by Smoke. Of course the pozerful graphics card is paired with an equally powerful processor: a Core i7 7700K clocked at 7038 MHz. Impressive! Congratulations to everyone making the leaderboard!
The overclocking results submitted during Week 20 generated in total 100 World Record Points, 4614.5 Global Points, and 6446.9 Hardware Points. The distribution per League is as follows: 13% for Elite, 34% for Extreme, 5% for Apprentice, 21% for Enthusiast, 10% for Novice, and 23% for Rookie. The representation of the active community is as follows: 2% Elite, 8% Extreme, 3% Apprentice, 19% Enthusiast, 9% Novice, and 59% Rookie.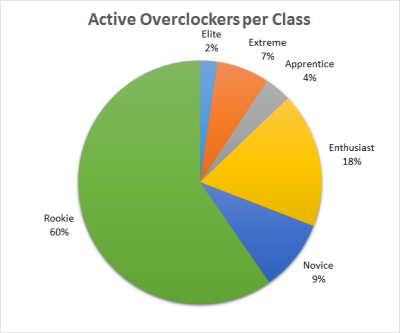 Page 1