Today`s top benchmark scores.
Our Motherboard Memory Lane series today arrives at the AMD Socket FM1 era. The arrival of the FM1 Socket heralded a significant change in direction for AMD which launched its first Accelerated Processor Units or APUs in the market. Aimed at the mainstream to entry-level segment the new platform hoped to woo PC enthusiasts and overclockers with a relatively decent CPU coupled with a much beefier integrated GPU. Let's take a closer at the new platform, the motherboards and processors that were popular during this era and of course, some of the most notable scores posted on HWBOT.
The arrival of the AMD FM1 Socket marked a pivotal change in the overall AMD product lineup. Socket FM1 would become the mid-range and entry-level platform leaving the mature AM3+ platform to spearhead its high-end offerings. Whereas previous mainstream platforms from AMD had relied upon a Northbridge Chipset such as the AMD 880G and AMD 880GX to deliver integrated graphics and digital display outputs, the new FM1 platform used Accelerated Processor Units had a much more substantial GPU baked into the processor itself. AMD would later release its Bulldozer-based AMD FX series processors on the AM3+ platform in an attempt to better compete with Intel's recently arrived Sandy Bridge offerings.
Continue reading
It's not every day that we find the regular tech media really willing to pull back the curtain and delve a little deeper into the technology that is driving our modern PCs. Which s why it is pretty refreshing to see Gamers Nexus chief Steve Burke take time to interview two of AMD's most technically adept employees. A little while back Steve managed to get some quality time with Sam Naffzieger and Micheal Clarke, a Chief Architect from AMD, who is intimately familiar with the processes and strategies that that were used to create the new Ryzen architecture. The whole interview is caught on video, but for those of you who like to read, here's a sample of their conversation in regards to uOp caching, power optimizations, shadow tags and more:
Michael Clarke:"One of the hardest problems of trying to build a high-frequency x86 processor is that the instructions are a variable length. That means to try to get a lot of them to dispatch in a wide form, it's a serial process. To do that, generally we've had to build deep pipelines, very power hungry to do that. We actually call it an op-cache because it stores [instructions] in a more dense format than the past; what it does is, having seen [the instructions] once, we store them in this op-cache with those boundaries removed. When you find the first one, you find all its neighbors with it. We can actually put them in that cache 8 at a time so we can pull 8 out per cycle, and we can actually cut two stages off that pipeline of trying to figure out the instructions. It gives us that double-whammy of a power savings and a huge performance uplift."
Sam Naffziger: : "X86 decode, the variable length instructions, are very complex -- requires a ton of logic. I mean, guys make their career doing this sort of thing. So you pump all these x86 instructions in there, burns a lot of power to decode them all, and in our prior designs every time you encounter that code loop you have to go do it again. You have this expensive logic block chunking away. Now we just stuff those micro-ops into the op-cache, all the decoding done, and the hit-rate there is really high [Clarke: up to 90% on a lot of workloads], so that means we're only doing that heavy-weight decode 10% of the time. It's a big power saver, which is great. The other thing we did is the write-back L1 Cache. We aren't consistently pushing the data through to the L2, there are some simplifications if you do that, but we added the complexity of a write-back so now we keep stuff way more local. We're not moving data around, because that wastes power.
Catch the full interview from Gamers Nexus here on their YouTube channel, plus a written article here which is perhaps more suited to the readers amongst us.
In Week 29 of 2017, we received 3305 benchmark results from 870 registered overclockers around the world. The majority of the submissions is coming from Rookie overclockers representing 59% of the active community. They were responsible for 40% of the submissions. We had a peek at the most valuable submissions in a breakdown per league.
With the Core X platform more readily available and the expansion of the Ryzen CPUs, enthusiasts have a lot of choice for their rigs. On the leaderboard this week we find 4 golden entries. First up is Dancop from Germany with a World Record in 3DMark03. He beat TeamAU and Rauf's earlier efforts by 5000 points using a Core i7 7740X processor clocked at 7170 MHz and a Titan Xp grapbics card clocked at 2379/1603 MHz. Next up is H2o vs. Ln2 from the United States who scored a hardware first place in the GeForce GTX 1070 3DMark Time Spy benchmark. The final score is 8143 marks with the graphics card overclocked to 2240/2451 MHz and a Broadwell-E Core i7 6950X overclocked to 4700 MHz. Both are of course cooled with custom loop water cooling. Now it's Italy-time! xMec scores a Global First Place in the 2xCPU HWBOT x265 1080P benchmark with a Core i3 7350K processor clocked at 6565 MHz. The benchmark only recently has points enabled and across all categories overclockers are currently aiming for the top spots. Last but not least we also have xXbladeXx from Italy. He scored a new hardware first place in the heavily contested Core i7 4790K XTU leaderboard. xXbladeXx manages to get his CPU stable at 6.1 GHz and scores 10 points more than Xtreme Addict. Congratulations to everyone making the leaderboard!
The most used hardware components of Week 29 are the Core i7 7700K (12.3%), GeForce GTX 1080 (10.9%) and the ASUS ROG Crosshair VI Hero (2.3%). In total the community used 341 different CPUs, 231 different GPUs and 777 different motherboards.
The overclocking results submitted during Week 29 generated in total 495 World Record Points, 7435.2 Global Points, and 6337.9 Hardware Points. The distribution per League is as follows: 32% for Elite, 31% for Extreme, 7% for Apprentice, 12% for Enthusiast, 6% for Novice, and 19% for Rookie. The representation of the active community is as follows: 3% Elite, 9% Extreme, 4% Apprentice, 16% Enthusiast, 9% Novice, and 59% Rookie.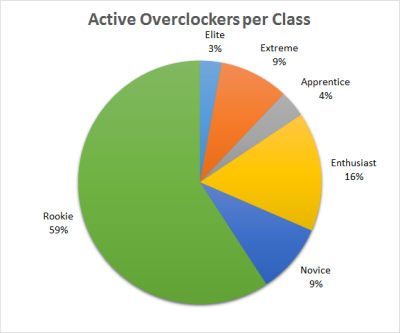 The guys over on the HWBOT World Tour site have just published a Prize Giveaway to celebrate the Cape Town 2017 leg of the World Tour which gets underway in just under week from now. If you fancy winning some prizes from Corsair and Seasonic, this may just to right up your street:
In celebration of the fifth HWBOT World Tour stop of the year in Cape Town, South Africa we have teamed with partners Seasonic and Corsair to bring you a fantastic opportunity to win some great prizes. Kicking off on July 21st, all you have to do use the link below to enter the Cape Town 2017 Challenge. It's basically a Giveaway where the more social media actions you complete, the more chance you to win.
Cape Town 2017 Challenge: Prizes
Seasonic Snow Silent 750 PSU - The latest Seasonic Snow Silent 750 PSUs will be used to power the Overclocking World Championship Qualifier contest as well as Overclocking Workshop systems that we setup at EGE. Seasonic Snow Silent 750 power supplies boast 80 Plus Platinum efficiency and a completely silent operation below 50 % system load.
Corsair Hydro Series H80i v2 All-in-One Cooler - The Hydro Series H80i v2 is a high performance, all-in-one liquid CPU cooler that works with a standard 120mm radiator mount, offering great heat dissipation helps overclockers and enthusiasts push the latest high-performance processors to the max.
To enter the Giveaway, go to the HWBOT World Tour website here and get started.
Swedish No.1 Rauf has just made a submission which has broken the World Record score for the classic 3DMark03 benchmark. Rauf's score scoots past the previous best submitted by TeamAU back in early June of this year. Let's take a look at the hardware used and the configuration that is earning Rauf this new World Record.
The new World Record score in the 3DMark03 benchmark now stands at 35,9451 marks. It was made using two key components, an Nvidia GTX 1080 Ti card and a Kaby Lake-X Core i7 7740X processor. Being an older benchmark that isn't designed to take advantage of the latest GPU architectures, the key to scoring highly is to push to both CPU and GPU in pretty much equal measure. On the CPU side of things we find Rauf pushing his Core i7 7740X to 7GHz which is +62.79% beyond stick settings, a really high frequency that can really pay off in this benchmark. Equally impressive is his Pascal GP102 GPU which was pushed to 2,500MHz, a massive +72% beyond stock with graphics memory tuned nicely to 1,600MHz (+16.28%).
Other notable hardware includes the latest ASUS ROG Rampage VI Apex motherboard (yes, him with the substantial VRM heatsinks) plus a G.SKILL DDR4 Trident Z configured at 2,073MHz (12.0 11-11-28). The rig was also powered by a monster Super Flower 8Pack Edition 2,000 watt power supply.
The new high score beats the previous best from TeamAU by quite a decent margin. Early in June of this year they managed a score of 35,6678 marks using the same two key hardware components. The new World Record earns Rauf an additional 100 WR points and 115 Global Points, elevating ho, him to a ranking of 11th in the Worldwide HWBOT rankings.You can find all the scores in the links above as well as here on the Rauf profile page.
With Summer temperatures soaring in many regions around the world at the moment, it's an apt time to take a look at how the GIGABYTE Beat the Heat contest is panning out over on OC-ESPORTS. The contest is GIGABYTE's fifth contest of the year so far and as with previous contest, the company is not shy when it comes to offering attractive prizes. Winners can expect to walk away with really nice hardware that in total amounts to more than $2,500 USD. Let's a take a quick look at the standings and scores as they stand at the moment with around eleven days to go:
GIGABYTE Beat the Heat: July 1st to July 31st 2017
The GIGABYTE Beat the Heat contest runs throughout the month of July here on OC-ESPORTS and is centered on 2D benchmarks and the latest non-HEDT platforms. All contestants must use a GIGABYTE motherboard. The contest is divided into the following four stages each featuring a 5GHz CPU frequency limitation and a specific benchmark:
Stage 1: XTU 5GHz
Stage 2: GPUPI for CPU–1B 5GHz
Stage 3: Geekbench3 Single–Core 5GHz
Stage 4: HWBOT x265 Benchmark–4k 5GHz
Catch the full update article here on OC-ESPORTS.
Daniel Dobrowolski and his boss Kyle Bennet have been reviewing PC motherboards since the Internet was called books. To help wind away the long summer months, the pair set about trying to come up with a definitive list of the five worst motherboards they have come across in during their twenty years of experience. The list includes a few corkers for sure that many of us will remember with a degree of horror. They then set about trying to come up with a list of the five best motherboards of all time – a task that I'm guessing proved to be a little more difficult. Here's a snippet of what Dan had to say on the topic:
After the positive responses I received for The Top 5 Worst Motherboards of All Time article, I decided to create a list for the the best motherboards. Unlike the worst boards which were picked for obvious reasons, it was important to qualify exactly how I chose the best motherboards on this list.
The "best" is subjective by itself, but I think the best motherboards stand out in a particular way. It's really not hard for a company to build a long lasting and stable motherboard. There are plenty of motherboards that last well past their useful operational life span. Some motherboards went above and beyond by being high quality and standing the test of the time or by being relevant for an unusually long period of time. Examples of that might be motherboards based on the excessively long lived 440BX chipset which remained relevant long after successor chipsets were released. Another category that will help a motherboard make this list is innovation. Some motherboards had something special about their design which made them more memorable, interesting, desirable, influential, and ultimately a favorite among enthusiasts. These are the criteria I will use to separate run of the mill excellence from what I consider some of history's best motherboards.
I won't spoil the fun by posting the results of his soul searching, but let's just say that I'm sure there is plenty of potential for much debate on the matter. You can find the 'Five Best Motherboards' here, and the 'Five Worst Motherboards' here. Well worth a read if you enjoy a nostalgic twinge.
After a few weeks of relative quiet, Vince 'k|ngp|n' Lucido is back at the rock face, chipping away at a few Global First Placed scores in the 1x GPU category. In just the last few days he's used the latest Kingpin Edition GTX 1080 Ti card to post first placed scores in 3DMark Fire Strike, 3DMark Fire Strike Extreme and 3DMark Time Spy. Let's take a look at the actual scores and hardware used:
The new Global First Place score in the 3DMark Fire Strike benchmark now stands at 31,770 marks. To hit this score Vince pushed the GPU of his EVGA 1080Ti KP card to 2,632MHz, a massive +77.84% beyond the Pascal chip's stock frequency. He also pushed the GDDR5 graphics memory by +18.68%, configuring it at 1,633MHz. The rig he used was based on the latest Skylake-X platform from Intel with an EVGA X299 MICRO motherboard pushing a Core i9 7900X processor to very impressive 5,700MHz (+72.73%). Other details include a G.SKILL DDR4 kit clocked at 1,861.9MHz (13-13-13-28) and a SuperNOVA NEX 1,600 Watt PSU. The new GFP score stands just ahead of OGS (Greece) who scored 31,290 marks just the day before.
The above configuration was also used to punish both 3DMark Fire Strike Extreme and Time Spy benchmarks. In FS Extreme the fastest single GPU Global First Place run now stands at 19,361 marks. This is just ahead of World Number 1 Dancop who managed a score of 18,984 using a Titan Xp card. In 3DMark Time Spy the new Global First Place score for a single GPU stands at 14,219 marks. This beats Dancop's score of 14,006 marks submitted earlier this month.
The EVGA GTX 1080 Ti Kingpin Edition card has not yet come to market, but we do know quite a bit about it. In fact there's already a bit of good content out there including this PCB analysis from Buidzoid (courtesy of Gamers Nexus) and this interview with TiN and Vince from Jay'sTwoCents.
The recent activity from Vince means that he now sits in fourth place in the HWBOT rankings with 2,398 points. You can find all the Global First Place scores from k|ngp|n here on his HWBOT profile page as well in the links above.
Welcome to another Thursday and another look at a news post from the not too distant past. This time we look back at a real treat, revisiting an interview with one of HWBOT's foremost overclocking talents - 0.0 from Thailand. 0.0. happens to be a leading proponent of Mobile overclocking. Back in July 2015 we caught up him and put together an interview that remains a very interesting read today:
HWBOT: When did you discovered overclocking and how or why did you start?
0.0: The first CPU I overclocked was a mobile P8400. I had already seen these overclocked by programming the master PLL usually using software called SetFSB, so I knew they could be overclocked. The laptop had plenty of thermal headroom but unfortunately the PLL was not programmable so I ended up having to hardware mod it. P8400 overclocked.
There were the usual criticisms that laptops cannot be overclocked and would burst into flames etc. It's still working fine today after 7 years and ~17000 hours of use, and the performance boost was welcome. Of course as with any overclocking one needs to be sensible about it and work within the parameters of the hardware. Besides hardware, firmware can have a lot to do with the devices' capabilities.
I started delving into firmware during the early days of the laptop mentioned above after a standard manufacturer's BIOS update went wrong and left the laptop bricked. The manufacturer's solution through on-line support on a Friday was to have the mainboard replaced at a cost of USD300. Since I wouldn't be able to send it in until Monday, I tried seeing if there were other alternatives over the weekend. Long story short, there was a crisis recovery option built into the Firmware not mentioned by the manufacturer, and luckily after much trial and error I got it to work, saving time and $300. Since then I have had an interest in firmware.
Catch the full interview with Alex (a.k.a. 0.0) here in the original post from July 17th 2015 in which he goes on talk in more about the technological challenges of pushing locked mobile CPUs. Well worth a read.
The Open Benchtable website recent published a blog post highlighting the fact that the BC1 Benchtable is now featured in the annual Red Dot Award Yearbook. The OBT BC1 was declared winner of in the Product Design category back in April. The award win will be forever enshrined within the pages of the 2017 / 2018 yearbook which also features some of the world best designed products from some pretty big hitters.
The Red Dot award happened back in April of this year when the Open Benchtable was chosen as the winning product in the category of Product Design, impressing the panel of judges with its utterly unique design approach. Today we're really pleased to see that Red Dot have added the BC1 Open Benchtable to its Yearbook for 2017 / 2018.
The Red Dot Award Yearbook, apart from a being about as heavy and large you would expect any Yearbook to ever be, is very much produced to inspire awe. Its four hundred plus pages are filled with product designs that Red Dot have deemed worthy as examples of world class design and innovation. The Open Benchtable now rubs shoulders with world-leading product designs from companies such as Apple, Bosch, Samsung, Carl Zeiss, Dell, Daimler and Google to name but a few. Prestigious company indeed. Expect to see the Red Dot Yearbook adorning coffee tables in boardrooms and design labs around the world.
You can find the blog post with more photos and information here on the Open Benchtable website.
Having acquired the latest and (perhaps) greatest graphics card from AMD, the Vega: Frontier Edition, Steve Burke and his colleagues at Gamers Nexus decided to explore the performance parameters of the new card and indeed the new Vega architecture GPUs. They started by adding a closed loop cooler (CLC) to the card, a job which ended being quite a mission due to the slightly irregular mounting holes on the PCB. The problem was eventually solved by using an old Intel CPU mounting bracket and creating some 64mm x 64mm retention holes. You can find the entire 'Hybrid Mod' Build Log video here. The Hybrid mod also added some small finned heatsinks to the VRM components to further eliminate thermal issues.
The idea behind the hybrid mod is that it's not just about being able to get more performance, it's also about finding the thermal limitations of the card / GPU and how these thermals relate to fan speeds and ambient noise levels. It also allows Steve and his team to gain a bigger picture about the card in terms of overclocking headroom and issues like power leakage. Here's a sample of what they discovered:
The Vega FE Hybrid mod posted reasonable gains in overclocking over the air-cooled counterpart, something we originally thought was due to more aggressive clock scaling at lower temperatures – similar to what's seen on Pascal. We later learned it was to do with power leakage and power limitations on the GPU, as we'll dig into momentarily. We were able to max-out our stock card overclock at around 1660MHz with an 1100MHz HBM2 OC, which we ultimately found to govern performance gains most heavily.
The Hybrid card, with the help of some fans pointed at the VRM components, was able to overclock to 1705MHz completely stable, with an 1105MHz HBM2 OC. We ended up running all our tests at 1700/1100 for now, but will be revisiting with slightly higher clocks later. The VRM fans proved unnecessary after more testing, but we'll get to that momentarily.
Pushing to 1710MHz resulted in a near-instant crash, and measuring at the PCIe cables shows that this is when power throttling begins to occur with greater frequency (causing the instability and subsequent crash). We're hoping to attempt some BIOS mods – no promises – to increase TDP. Just depends on what tools are made available to us, or what we can figure out through external tools.
You can find the full Hybrid Mod article from Gamers Nexus here, as well as the video that Steve posted on their YouTube channel here. It's great see that fairly mainstream tech site is willing to conduct these kinds of experiments to delve deeper in to the actual technology that powers today's 3D gaming titles. It's also great to see that his video on the topic currently has almost 50,000 views and almost 500 comments. Nice work guys!
Page 1