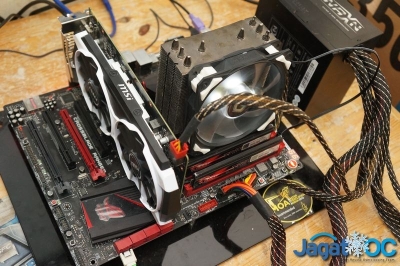 It's no secret that we're excited about AMD's latest micro-architecture codenamed Excavator. We recently wrote about FlanK3r's adventures with the Athlon X4 845 CPU and also highlighted Excavator's supreme SuperPI efficiency in our monthly SuperPI 32M 5 GHz Challenge Leaderboard article. Our first encounter with the efficiency of Excavator was a SuperPI 32M of 12 minutes and 39.659 seconds at the Athlon X4 845 frequency of 3.8GHz.
The most recent evolution in the story comes from Lucky_n00b, who found a chip in a local store and couldn't resist picking it up. In the main discussion thread about Excavator, Lucky_n00b describes his findings as well as showed off the new "fastest 5G AMD" in Super PI 32M. He scores 11 minutes and 20.358 seconds at, mind you, a mere 4140 MHz. Once again, remember that AMD's previous best architecture was Kaveri and the fastest ever 5 GHz Super PI 32M is 12 minutes 17.437 seconds by Zeropluszero at exactly 5 GHz. We are now almost 1 minute faster with 860 MHz lower frequency!
Further down in the thread, Lucky_n00b also highlights some interesting aspects of the Athlon X4 845. Most importantly, on the topic of the low NB frequency, he notes that "BIOS also noted it as 1.3Ghz on default, with 1.175 VID. Upper range on mine around 1400-1450Mhz is @ 1.35V VddNB, 1475-1500Mhz failed to boot. According to geekbench 3 memory scores, this NB affects memory performance greatly." Judging by the experience on other AMD platforms, where NB and memory frequency has a significant impact on performance, it appears that there's still quite a lot of juice left in the Excavator tank.