The third stop of the HWBOT World Tour just came to a conclusion at Gamers Assembly, Poitiers France where a climactic finale saw two of Germany's most talented overclockers go head to head in a battle to become Champion. World No. 1 Dancop made it to the final by beating off competition from Aerou and Orion24 while extreme overclocker Bullshooter (also from Germany) managed to defeat Wizerty and Zzolio to get his place in the final where he eventually overcame to Dancop to become MSI MOA 2016 Europe Champion, booking his seat in the HWBOT World Championship at the end of the year. Let's take a look at how all the action unfolded across two days of intense and exciting OC action.
World Series – MSI MOA 2016 Europe
The first phase of the contest involved a qualifying round where 22 extreme overclockers competed for places in the quarter final stage. The qualification stage took place throughout the afternoon of the March 27th with overclockers given three hours to bench on the following three benchmarks; XTU, SuperPi 32M, and 3DMark 11 Physics. Note: For all these benchmarks the CPUs were in fact limited to Skylake Core i7 6700K chips clocked at 5GHz max and 5GHz uncore. Memory kits were provided by event sponsors Klevv. Any Z170 motherboard was allowed.
Straight out of the traps we saw World No.1 Dancop showing his class with wins in both Stages 2 (3DMark11 Physics) and Stage 3 (SuperPi 32M) plus a runner up spot in Stage 1 (XTU). In second place we have the ultra competitive Pole, Xtreme Addict, while in 3rd place we had Romania's Bruno. In 4th pace we have the French maestro Wizerty, 5th place sees our eventual champion Bullshooter with orion24, zzolio and Aerou making up the eight that qualified for the quarter-finals.
Here's the top ten as it stood at the end of the qualifiers:
You can check out the full standings and scores of all 22 overclockers at the OC-ESPORTS website here: http://oc-esports.io/#!/round/ws16_eu_qualifier
Monday morning saw the start of the quarter-finals where the eight qualifiers competed in 1v1 contests, each lasting 30 mins. Benchmarks were drawn at random with one veto allowed for each overclocker. Benchmarks in the hat for the draw included XTU, SuperPi 1M, Reference Clock, 3DMark 11 Physics, Wprime 32M, Cinebench R11.5. No limitations were placed on CPU frequency.
In quarter-final one Dancop competed with Aerou on GPUPi 100M with Dancop hitting a score of 13.148, beating Aerou on 14.076 (lower is better) to progress to the next round. Quarter-final two saw Bruno take on Orion24 on Cinebench R11.5 with Orion coming out on top with 15.07 points. Quarter-final Xtreme Addict went head to head with Zzolio on WPrime 32M. The winner was Zzolio who managed a run in 3.438 seconds compared with XA who could muster only 3.469 seconds. Finally we have Wizerty and Bullshooter who competed on Cinebench R11.5. Bullshooter won with a score of 15.41 points.
World Series – MSI MOA 2016 Europe: Semi-Finals
That brings us to the semi-final stage of the competition which took place in the early afternoon of March 28th. The rules here vary slightly from the qualification round as overclockers had to use a setup that included an MSI Gaming Z170A XPOWER GAMING TE motherboard, Klevv CRAS memory and Seasonic PSUs. Again, the rules dictated a 1v1 format, a format that can be quite a challenge for overclockers used to working in teams. In a 1v1 situation, if something goes wrong you are on your own. The good news is that it can be quite entertaining, especially when see seasoned pros under pressure to perform in a given moment.
Semi-final One: Dancop v Orion24
The match up in the first semi-final contains all the sporting romance you could ever hope for. Orion24 was actually in attendance at last year's World Tour stop in France where he competed as amateur. Last year he also competed in a few Rookie Rumble contests using water and air cooled systems to great effect. Clearly however he has moved on up the ranks, developing a taste for LN2 along the way, now ranking an incredible 16th in the Extreme League on HWBOT and 5th in France overall.
This romantic story is complete when you see this rising French star in a semi-final 1v1 with the World No.1 Dancop. You know you're doing well when you are facing this guy in a live OC contest!
In the bag for the benchmark draw were six benchmarks; XTU, SuperPi 1M, Reference Clock, 3DMark 11 Physics, Wprime 32M, Cinebench R11.5. One veto per overclocker as with the quarter-finals. The first benchmark out of the (proverbial) bag was 3DMark 11 Physics, a benchmark that was accepted by both players. Dancop may have been worried that his i7 6700K CPU was not actually as good as his competitors' chip, but being a master of memory optimization no doubt gave him hope of success in a 3DMark Physics bout.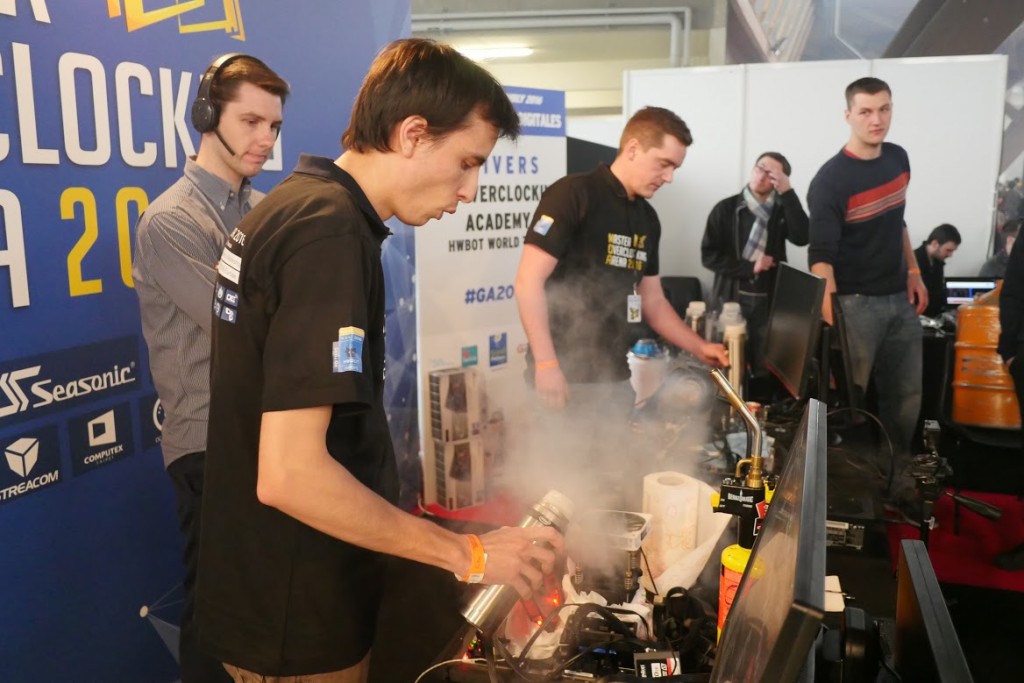 At around the halfway mark we see Dancop using all of his experience with Skylake processors to hit a score of 15,880, quickly hitting the 16K mark just a few minutes later. With 5 mins to go that lead had extended to 16,335 whereas Orion24 was scoring 16,092 marks despite having his CPU running at a higher frequency – this underlines the importance of being able to dial in precise and accurate memory timings. At the end of play the final scores were Dancop on 16,359 marks and, Orion24 on 16,092. The new guy performed well on the day, but the World No.1 was in no mood to succumb to an upset.
Don't forget that you can relive the whole of this semi-final on OverClocking-TV here, with brilliant commentary from Trouffman and Leeghoofd: https://youtu.be/9xy2GexdFT0
Semi-final Two: Zzolio v Bullshooter
The second semi-final saw Zzolio, Denmark's No1 overclocker and a member of the Elite League on HWBOT go head to head with Bullshooter, an Extreme overclocker from Germany. Zzolio apparently surprised himself a little when qualifying for the semi-final, struggling somewhat to get to grips with the Skylake platforms and memory kits being used. But surely he could take heart from the fact that he beat Xtreme Addict in the quarters. No mean feat indeed. Bullshooter had also managed to defeat an OC legend on his way to the semis, edging past French master Wizerty.
The benchmark draw again threw up 3DMark11 Physics which was accepted by both overclockers who quickly got their CPUs down to subzero temperatures using LN2.
At around the 15 minute mark we saw Zzolio take the lead with a commanding a score of 16,359 marks compared to Bullshooter on 16,139 but as we edged toward the 30 minute line Bullshooter really started to get more from his CPU. In fact by the end of the 30 minute slot we saw Bullshooter stretch his legs to hit a pretty outstanding score of 17,081 marks, considerably ahead of Zzolio on 16,529 marks.
Here is the full coverage from semi-final two from the guys at OverClocking-TV: https://youtu.be/WDFJib1NxMA
World Series – MSI MOA 2016 Europe: Grand Final
The grand final ended being a clash of two German overclockers with Dancop and Bullshooter going head to head on the 3DMark11 Physics benchmark (again first out of the hat, and again no vetoes were used). Having already scored as highly as 17K+ in the previous round, it was clear that Bullshooter had the advantage in terms of CPU and that Dancop was going to have to use all of his memory tweaking ingenuity to claim a win. A nicely balanced final was in store for all in attendance. Or so you would think.
In fact what happened was that Dancop's system basically refused to boot, revealing a fault on the board possibly caused by condensation from the previous round. This fatal fault meant that Dancop was unable after several attempts to get into the OS, an outcome which meant that Bullshooter was wholly unchallenged throughout the final. Bullshooter nevertheless remained a worthy winner hitting a fine score of 16,915 marks.
Catch the Final in full on Overclocking-TV: https://youtu.be/gNTi3b_04QU
Above you can see the final standings and scores, including the third place playoff between Zzolio and Orion24, an interesting contest which went into extra time (an additional five mins added) after both players were drawn on 3.469sec in Wprime 32M. After additional time Zzolio had managed to hit 3.437 without reply from Orion24. Well done Zzolio who claims third spot on the podium.
Watch the video coverage here: https://youtu.be/ejKq3WYy5FQ
MSI MOA 2016 Europe: Competition Prizes
HWBOT World Tour sponsors MSI, Seasonic and KLEVV were kind enough to offer some great prizes for the MSI MOA 2016 Europe contest. The winners, runners up and third place finishers of each contest will take home the following:
1st Place:
Ticket to HWBOT World Championship
Seasonic Platinum P-760 Power Supply
MSI Gaming Z170A XPOWER GAMING TE Motherboard
KLEVV CRAS Memory
Streacom BC1 "Special HWT 2016 Edition" Benchtable
USD $3,000
2nd Place:
Seasonic Platinum P-760 Power Supply
MSI Gaming Z170A XPOWER GAMING TE Motherboard
USD $2,000
3rd Place:
Seasonic Platinum P-760 Power Supply
KLEVV CRAS Memory
USD $1,000
Congrats to all 22 extreme overclockers who competed in the MSI MOA 2016 Europe contest, making it a resounding success and a great deal of OC fun. A special shout deservedly goes to Bullshooter who has clearly taken his live OC game to another level to record his first major win. Well done.
Don't forget that Overclocking-TV has the entire event covered on the OC-TV youtube channel, including interviews with the finalists Bullshooter and Dancop.