We have some really good news to announce today as we can now confirm TAITRA (aka the Taiwan External Trade Development Council) as official Partners for the HWBOT World Tour 2016. As well offering support throughout the World Tour, TAITRA have generously given HWBOT access to substantial booth space at the Nangang Exhibition Hall during Computex 2016. This provides HWBOT with an ideal platform to build on the success of previous Computex events and further raise the profile of HWBOT and Overclocking during the show.
HWBOT World Tour 2016
The HWBOT World Tour invites Overclockers and enthusiasts to join HWBOT and enjoy a relaxed social environment for overclockers to learn, share and compete. The emphasis is on nurturing the next generation, educating enthusiasts in the art of overclocking, as well as providing a platform for some seriously extreme and competitive benchmarking.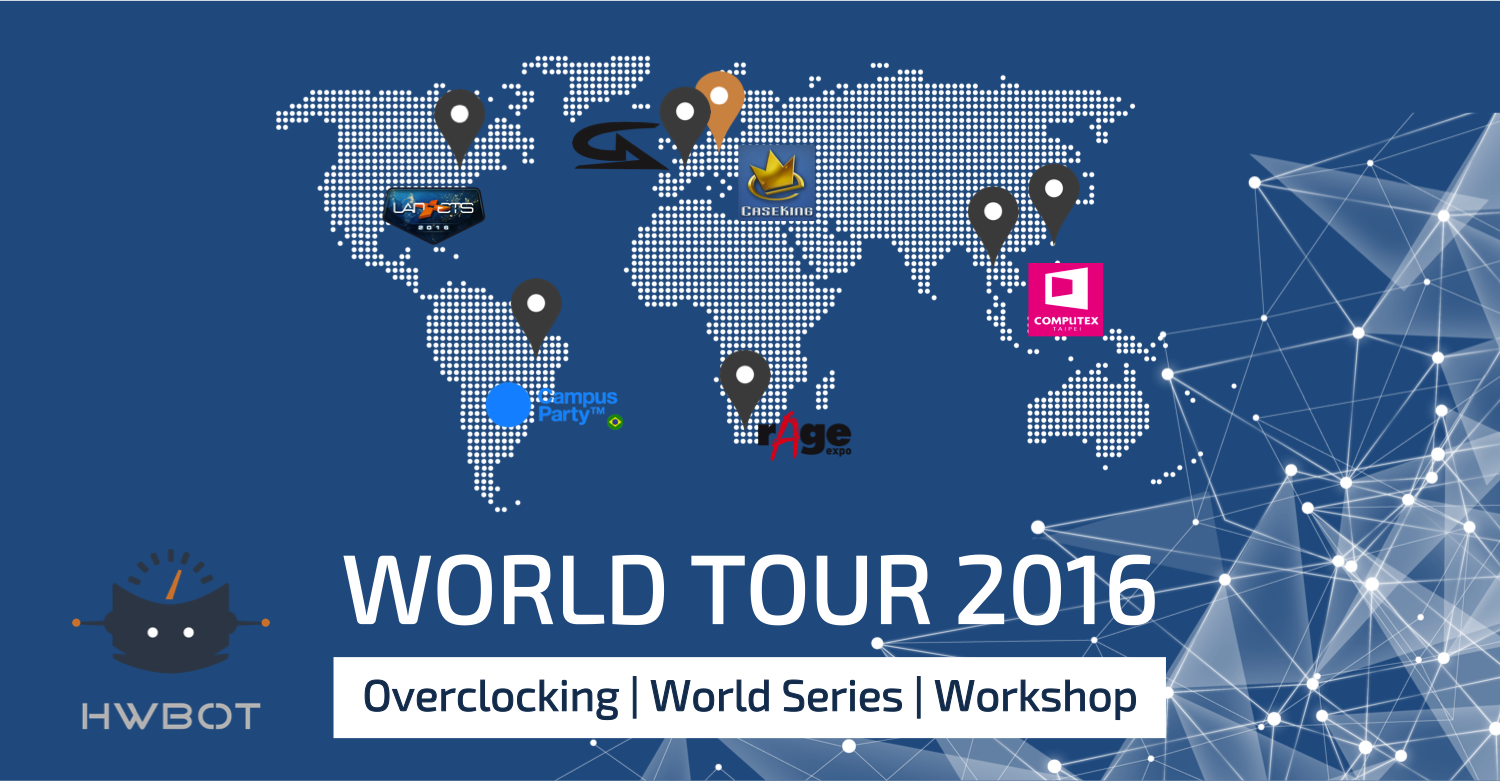 The HWBOT World Tour 2016 includes events in Brazil, South Africa, France, Canada Germany. Thanks to TAITRA HWBOT will now have a booth for the first time at Computex, creating the ideal venue for OC workshops, competitive Word Series benchmarking and a place where overclockers visiting Computex can meet up, socialize and get involved.
Learn more about the HWBOT World Tour 2016 here: http://hwbot.org/article/world-tour-2016.
About TAITRA
Founded in 1970 to help promote foreign trade, the Taiwan External Trade Development Council (TAITRA) is a non-profit trade promotion organization in Taiwan that promotes foreign trade and business opportunities for Taiwanese companies. Each year TAITRA works with the Taiwan World Trade Center (TTC) to host Computex, the largest Technology Exhibition in Asia.
TAITRA is is the foremost non-profit trade promotion organization in Taiwan. Jointly sponsored by the government, industry associations, and several commercial organizations, TAITRA assists Taiwan businesses and manufacturers by reinforcing their international competitiveness. http://www.taitra.org.tw/