Author: Sdougal
During the Computex show this week, we spent some time with Galax, a company that has recently been reborn from the original Galaxy brand that has been making graphics cards, SSDs, power supplies and more for the best part of fifteen years. What we did find at the show, was a company that wants to embrace overclocking with both arms, hosting Overclocking sessions live throughout the week involving some of the scene's biggest hitters. But that is not where the story ends.
Galax are one of the current group of enthusiast hardware vendors that are trying their best to be aligned with where Overclocking is heading. But in fairness things were not always this way for a Hong Kong based company that, since breaking from its OEM roots in 2000, have not always been ahead of the game. It's easy to argue that the Galaxy brand was never in danger of becoming a top tier player in the VGA card segment, with the Mainland Chinese vendor seemingly content to invest little in its marketing budget to create a brand that could stand shoulder to shoulder with ASUS, MSI and other leading Taiwanese vendors.
Things have changed. One side of the Galax Booth at Computex this year is pretty much dominated by overclockers going at it with LN2, butane torch burners and lots of absorbent cloth to soak up the humidity that is rampant in Taiwan at this time of year. World class talent was on display too, with current world number one, 8Pack (UK) doing his best not to smile for the cameras – in keeping with his image as an OC hard case. Of course we know better. (…Ian is a super bloke).
Other top-class talent on display at the booth included guest appearances throughout the week (sounds a lot like DJs I know…), including sets from Stephen Yeong and Mad Tse (Hong Kong), OC Windforce and Littleboy (Korea), Jacson Schenckel and Ronaldo (Brazil), plus the legendary Japanese overclocker, Duck.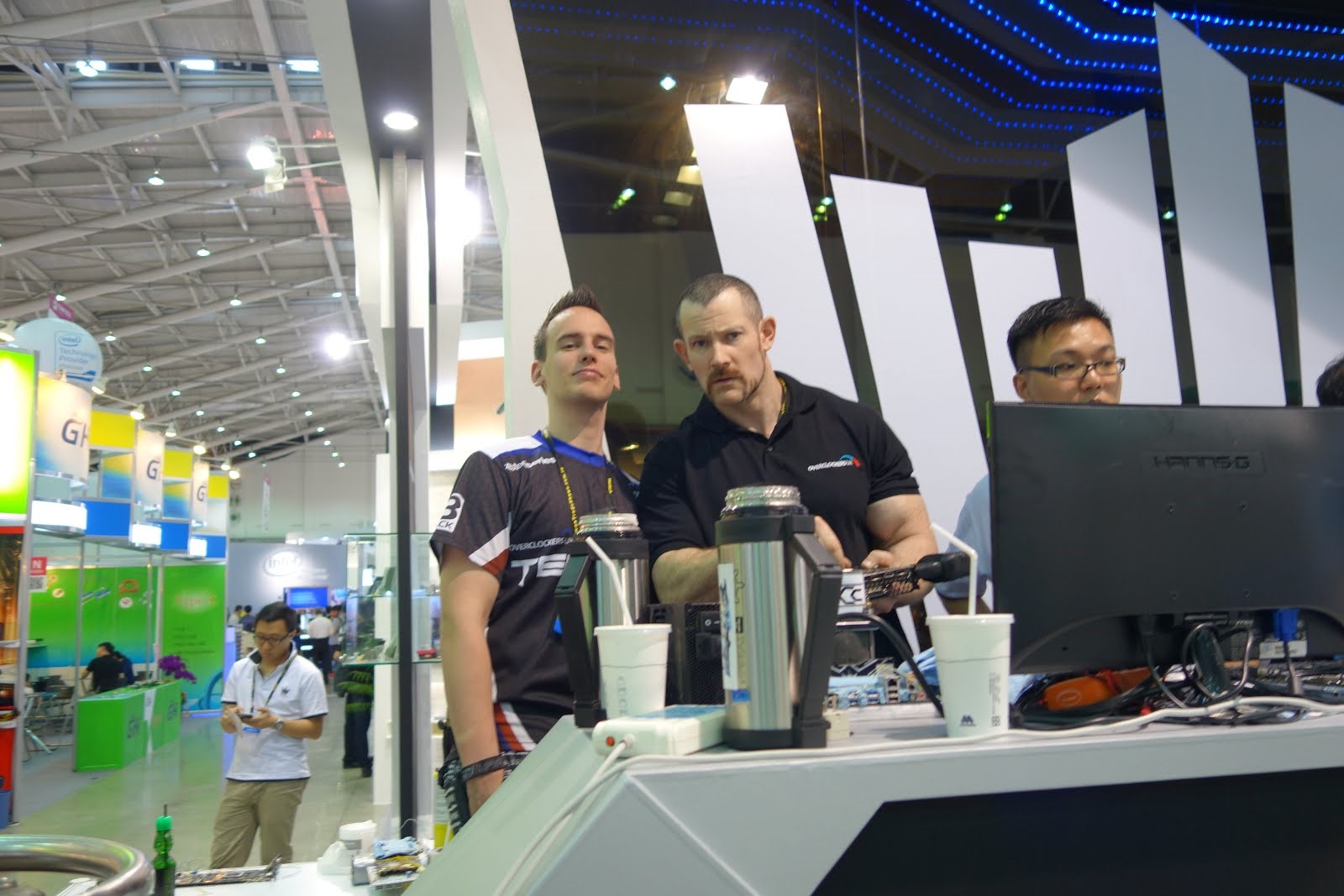 Talking to guys at the booth reveals that most of the work was involving the newly launched GTX 980Ti HOF (Hall of Fame) card in single and 2x SLI configurations to bench 3DMark Firestrike. At the time of writing, the company is claiming a bunch of records from the Hong Kong and Korean teams. Well done lads.
Galax: Hall of Fame Branding
Today, Galax is quite a different beast than its ageing parent company. Spun off as a separate entity with a license to radically alter its marketing strategy, Galax is fast becoming one of a group of progressive companies that have grasped the idea that consumers can indeed be influenced by 'heros' that identify with your product. Galax are an example of the tech industry now beginning to grasp the concept of overclocking as Esport.
Firstly, let's state the case that overclocking is undoubtedly moving in the direction of an Esport – to some this may seem like a leap, but hear me out. The increasing professionalism at one of the scale coupled by a quickly growing amateur segment at the other, means we can now, by definition, start to refer to a real sport of sorts. I digress.
In the sports world, the use of 'hero' figures in marketing is a no brainer. Nike used the name, fame and reputation of Michael Jordan to sell sports shoes decades ago. It seems odd to think of sports merchandise branding as being anything else than 'personality-led'. Lionel Messi and other high profile sportsmen and women are a part of the industry they work in, beyond just kicking a ball.
Coming closer to home we have the Fatal1ty brand from ASRock, an audacious attempt to market a motherboard towards gamers. The Fatal1ty brand has somewhat withered as the PC and Console gaming segment has evolved beyond Quake and Doom 3 (no offence Jonathan, but even Jordan had to retire one day), yet it remains an early and genuine attempt to add a personality to a motherboard brand.
Galax have re-aligned their marketing efforts with a new brand name, and in doing so have also created the Hall of Fame (HOF) brand of enthusiast cards. These cards are build on the image and reputation of established industry players (those mentioned above are solid examples) that are close to becoming real celebrities of the sport. HOF branded cards feature packaging with images of these overclockers – and in my opinion they've done a good job. It isn't cheesy or overdone (ok there is one moment in a video out there, but I'll not mention that here…), in fact the overall messaging is much better to me than robots fighting in outer space, or cartoon styled images often used in the past.
Look at the pictures below. These guys look serious, and even a bit intimidating – reinforcing the idea that achieving absolute performance is no laughing matter. It takes years of dedication to get to where these guys are. If you want to follow in their footsteps, you'd better get serious.
Just talking to the staff at the Galax booth, it's clear that the company is learning how engage better with the OC community, creating a brand that resonates with people who regularly purchase high-end kit and understand the pursuit of performance. It's probably fair to say that ASUS and its ROG products are leading the hearts and minds of most overclockers in the high-end segment, but clearly Galax wants to compete with the top tier too, carving out a real niche for itself with a very influential group of people – overclockers.
Rbuass Returns With Jacson Schenckel: #1 in 1xGPU Fire Strike Ultra
Just before finishing up the article, this result came in. The Brazilian overclocking team took the new top spot in Fire Strike Ultra 1xGPU – the culmination of Rbuass' return to overclocking.