Hardware Masters League
While the member hall of fame is dominated by people who use very expensive systems cooled with liquid nitrogen, the hardware masters league is dominated by people who have shown their skills overclocking affordable hardware using less life-threatening cooling methods.
Hardware King
Undoubtly the nuttiest man on earth. Never leave this man alone with your computer, by the time you get back it will probably be voltmodded, liquid cooled and running way beyond factory settings.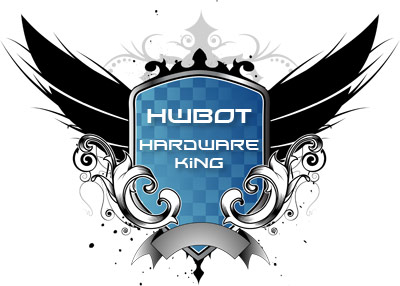 StingerYar

Overclockers.UA
- global awards: 25x

20x

17x

17x

- hardware awards: 4165x

1851x

1282x

1579x

25th - 1192.7
points
Hardware Masters League
Overclockers ranked by their hardware points.
Filter rankings
| | | | | | |
| --- | --- | --- | --- | --- | --- |
| Rank | Hardware points | 2D Points | 3D Points | Member | Team |
| 1740. | 1167 pts | 683 pts | 484 pts | Mika | Madshrimps Belgium OC Team |
| 1741. | 1166 pts | 1069 pts | 97 pts | Schelmiii | PC Games Hardware |
| 1742. | 1165 pts | 872 pts | 293 pts | dontiq | KOC2 - Indonesia |
| 1743. | 1164 pts | 301 pts | 863 pts | Celi | ocD |
| 1744. | 1162 pts | 848 pts | 314 pts | immediaman | Team Hardware-Reaktor-Reloaded |
| 1745. | 1162 pts | 392 pts | 770 pts | liquidcoolingx7 | Enthusiasts of Switzerland |
| 1747. | 1161 pts | 846 pts | 315 pts | alesmilocal | Enthusiasts of Mexico |
| 1746. | 1161 pts | 833 pts | 328 pts | SeLecT | AwardFabrik |
| 1748. | 1161 pts | 314 pts | 847 pts | Iron | HwProject.net |
| 1749. | 1159 pts | 780 pts | 379 pts | micul | Overclock.net |
| 1750. | 1157 pts | 856 pts | 301 pts | nOFi | Enthusiasts of Spain |
| 1751. | 1155 pts | 440 pts | 715 pts | qef | Team Russia |
| 1752. | 1154 pts | 941 pts | 213 pts | RSR | Team MLG |
| 1753. | 1153 pts | 936 pts | 217 pts | STORM1978 | Hellas Overclocking Team |
| 1754. | 1152 pts | 825 pts | 327 pts | 3urner | Team Hardware-Reaktor-Reloaded |
| 1755. | 1151 pts | 587 pts | 564 pts | Northwood-3400 | Team Russia |
| 1756. | 1148 pts | 370 pts | 778 pts | Hamed2G | ShahrSakhtafzar Iran |
| 1757. | 1148 pts | 557 pts | 591 pts | bennyluk | Extreme Overclockers of Hong Kong |
| 1758. | 1148 pts | 869 pts | 279 pts | julienricqrt | Enthusiasts of France |
| 1759. | 1146 pts | 744 pts | 402 pts | balor | HardOCzech Team |