From 08/01 HWBot will invoke the following rules: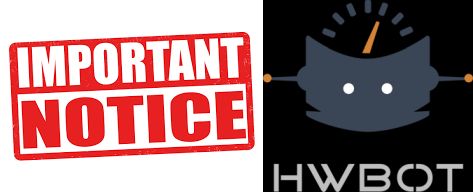 New 2020 scores: a full size verification screen (meaning no cropping), mandatory usage of CPU-Z 1.91 or Legacy CPU-Z (or more recent). Exception: on older legacy platforms (Socket A and variants ) older CPUZ versions are still allowed. If unsure plz crosscheck with the moderators
Submitting Backup scores: No edit of older score is allowed. The newly submitted backup score must be higher than the old score. Advise a moderator or mention in the comments box that it's a backup score: e.g. "backup score found on Websmile's USB dongle"
In case of Resubmitting old scores and this being picked up by moderators or anyone of the community this act could result in a temporary ban or complete removal of your account.
Continue reading