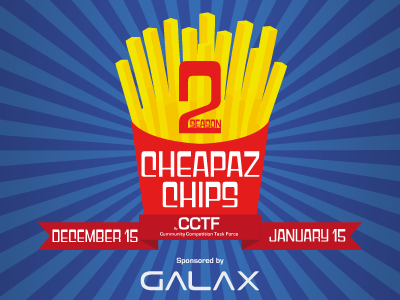 We are delighted today to announce the second ever season of the Cheapaz Chips contest series on OC-ESPORTS. As you may recall the idea of the contest is to encourage overclockers to put all of their ingenuity and passion into overclocking entry-level hardware that we wouldn't cry over too much if it got bricked. Cheapaz Chips Season 2 will run through what remains of 2017, ending on January 15th. It features three stages suited to benching NVIDIA GT 1030 graphics cards, the subject matter of season 2. As an added incentive, GALAX are also offering a GALAX GTX 1080 Ti HoF OC Lab Edition card for the eventual contest winner.
Cheapaz Chips Season 2: December 15th - January 31st 2018
The Cheapaz Chips Season 2 contest on OC-ESPORTS features a very simple format based around Pascal-architecture NVIDIA GT 1030 cards. Each of the three separate stages is a specific benchmark challenge:
Stage 1: 3DMark03 (5GHz CPU)
Stage 2: GPUPI 1B (5GHz CPU)
Stage 3: Superposition 1080P Xtreme (5GHz CPU)
Note that contestants may use any processor platform, with CPUs limited to 5GHz to make the contest more GPU-centric.
The benchmarks selected for each stage pretty much reflect the standard for hardware being used - i.e. they are either legacy or low-level benchmarks. This is keeping with the spirit of the contest which takes overclocking away the from heady echelons of Extreme benching, instead bringing it all down to pure creativity and ingenuity, with zero financial barriers to entry or success. Overclockers who succeed in this contest will of course have to find a way of pushing their GT 1030 card as hard as possible, while also experimenting on CPU and memory component choices and configurations.
You can read the full Cheapaz Chips Season 2 announcement here on OC-ESPORTS.