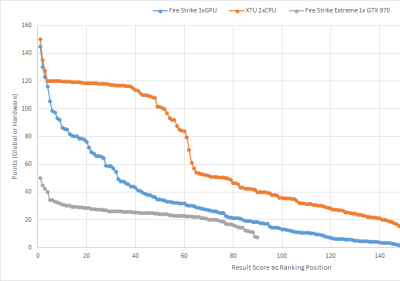 Since week 27 of this year, every Monday morning we present you with the most valuable submission of the past 7 days. In the latest report Der8auer from Germany had grabbed the MVS title with a score of 2132 in XTU 4xCPU. This week, however, we will not publish the report because of a problem with the HWBoint engine causing incorrect hardware points for most of the results submitted between Saturday and Sunday.
In case you don't frequent the forums often, in a thread titled Adjustment for Global Points - Work in progress we are working together with members of the community to address a couple of concerns with the current point structure. We use our UAT test environment to have an early look at the point distribution in practical terms before proposing it to the community in general. All new code (ie. bug-fixes) are tested on the UAT environment before they are pushed to the production server to ensure that, well, what happened last weekend doesn't happen. By accident the part of the test algorithm that affects the Hardware Points was pushed to the production server, causing new submissions to have higher points.
We rolled back the code by Sunday afternoon (thank you for taking time our of your weekend, Frederik!) and the hardware points should slowly but steadily revert back to normal. This may take a while as over 60,000 hardware rankings and 675,000 submissions are affected!
If you wish to participate in the discussion about the Global and Hardware Points, we would like to invite you to join the thread in our development sub-forum. The latest version of the test algorithm can be found in post #72. Thank you for your understanding!