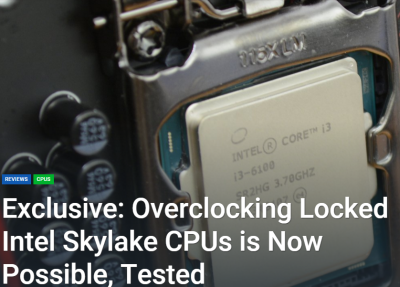 In addition to the coverage at Overclocking.guide, Techspot has also tested the recently unlocked base clock overclocking capabilities of the Z170 motherboards by ASUS and ASRock. In an early hands-on review they have a look at the performance increase when overclocking the Core i3 6100 to 4.7 GHz.
The results are, as expected, quite interesting. With the additional horsepower, the Core i3 6100 jumps over the Core i5 4430 by quite a margin. In Cinebench R15, for example, the i3 6100 is trailing the i5 4430 by 73 points at stock, but surpassing it by 26 points at 4.7 GHz! Even for Gaming there is a noticeable boost as the average frames per second increases from 57 to 65 in Crysis 3 by a couple of seconds of overclocking.
A quote from the conclusive lines: "So there you have it, possibly the biggest game changer for enthusiast PC builders and overclockers since Intel released its unlocked-K series processors five years ago.. The Core i5-6400 ($190) has the potential to deliver big things, though it only features a 27x clock multiplier which would result in a 3.4GHz operating frequency if it's limited to the same 127MHz base clock as our Core i3-6100. If that is the case, then spending $10 more on the Core i5-6500 might be a smarter move, as its 32x clock multiplier would allow for a 4.06GHz operating frequency. That said, both processors might have no trouble exceeding the 127MHz base clock, so we'll have to wait and see although Asrock's own overclock of the Pentium G4400 was also limited to a 127MHz BCLK."
Check out the article here:
http://www.techspot.com/review/1108-intel-locked-skylake-cpu-bclk-overclocking/
.