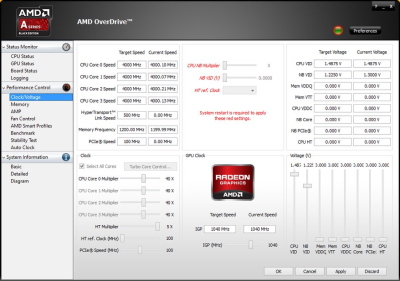 As AMD pushes back the Zen architecture back to end of Q4 next year or even 2017, the owners of AMD processors need to wait a bit longer to get an upgrade. For the AMD users, PC Gamer compiled an easy AMD overclocking guide using the A10-7870K Godavari CPU.
The A10-7870K is a refresh of the Kaveri architecture and is, well, not so popular at HWBOT. With only 51 submissions in the database, it's doing significantly worse than its A10-7850K predecessor. But we digress. In the PC Gamer guide you'll find tips and tricks on how to overclocking the AMD processor using an ASUS A88X Pro motherboard and a couple of G.SKILL TridentX DDR3 sticks. Using a combination of the AMD Overdrive software tool and the motherboard BIOS, you get a brief introduction to everything AMD overclocking. That includes: CPU, Northridge, Memory, and even iGPU tuning!
Fly over to pcgamer.com for more information and details on overclocking the AMD A10-7870K!