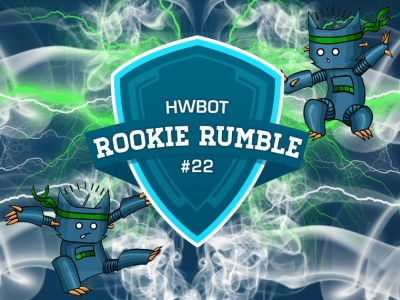 This week sees the conclusion of the 22nd edition of the Rookie Rumble on OC-ESPORTS, a contest where Overclocking rookies go head to head on Intel and AMD platforms in a bid to claim the season's Rookie crown. Once again in Round 22 we see a complete newcomer succeed in beating the competition with Ukrainian SergeyR taking top spot with a dominant display that reaped 136 points. On the AMD side of things we have Portugal's ncn_md managed to win the contest with a total of 136 points (incredibly while also coming third in the Intel contest). Let's have a look at the scores and standings in some detail.
It's great to see so many new faces compete in the 22nd round of the Rookie Rumble, indicating that there's an almost continuous stream of fresh rookies joining the sport and getting involved. Congrats of course to SergeyR for his dominant display, also to ChillyB who clinched second place with a pair of second place finishes.
Finally let's turn our attention to 3rd place finisher ncn_md who managed to grab a spot on the podium without finishing higher than third in either stages. In fact this can be considered an even more impressive feat when you consider that the Portugease overclocker also dedicated an enormous amount of energy to acquiring the AMD rookie crown in this round.
Read the full article at OC-ESPORTS.