Today`s top benchmark scores.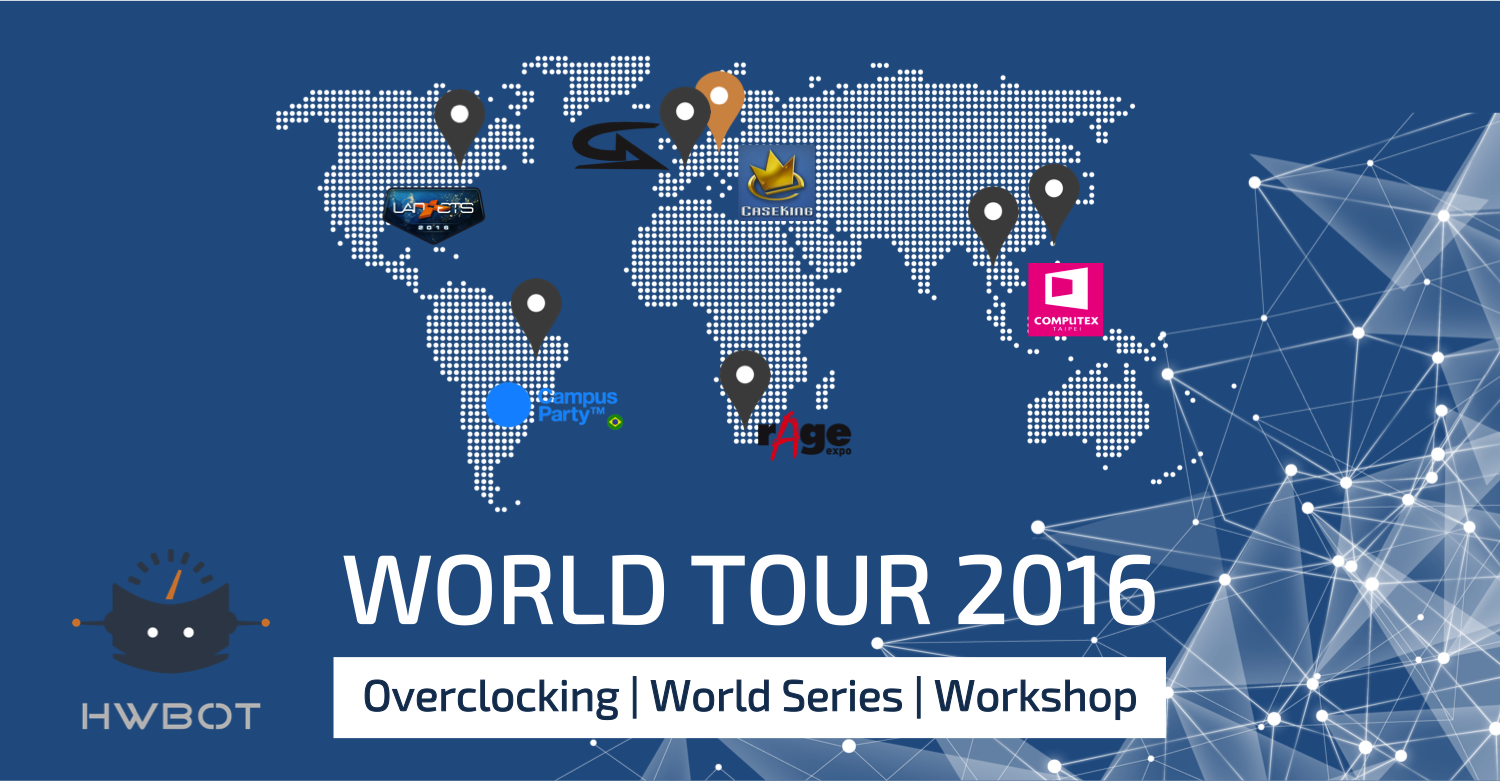 October 1, 2016 Taipei, Taiwan - HWBOT, an organization regulating international Overclocking competitions and rankings today officially announces the World Championship Final to held in Berlin, Germany on the 5th of December 2016. The World Championship Finals pits the winners from each of the HWBOT World Series winners, plus a wild card and a ROG Camp entrant, against each other in a bid to find out who is Overclocking Champion of the World in 2016.
The World Championship Final is truly a quest to find the best live OC contest player of the year. The contest features the six World Series winners from each of the six HWBOT World Tour 2016 events. The six World Series winners will be flown out to the Final and will be joined by the winner of the HWBOT World Championship Wild Card Contest winner. The eighth contestant will be the winner of the ROG Camp 2016, just to add some new blood and spice things up a touch.
Both HWBOT World Championship Wild Card winner and the ROG Camp 2016 winner will be announced at a later date.
Continue reading
In Week 43 of 2016, we received 3642 benchmark results from 951 registered overclockers around the world. The majority of the submissions is coming from Rookie overclockers representing 62% of the active community. They were responsible for 37% of the submissions. We had a peek at the most valuable submissions in a breakdown per league.
Week 43 was again filled with golden cups. First up is K|ngp|n (US) beating his own World Record in 3DMark Fire Strike. With four NVIDIA Titan X Pascal GPUs clocked at 2200/2900 MHz and combined with a Core i7 6950X at 5250 MHz (23 MHz higher than last week), he's almost 1200 points ahead of 2nd place Elmor. Bullant from Australia also scores a golden cup. He takes first place in the 3DMark06 2x GeForce GTX 580 category. His two cards are clocked at a relatively relax 949/1192 but paired with a 6.2 GHz Core i7 6700K he outscores fellow countrymen TeamAU. In the hardware rankings we find Luumi from Finland for the second week in a row on the leaderboard. This time the Finnish overclocker scored a golden cup for setting the highest frequency with a Core 2 Quad Q6600. With 5183.22 MHz he does exactly 0.09 MHz better than runner up Sale_quiche from France!
The overclocking results submitted during Week 43 generated in total 130 World Record Points, 4298.6 Global Points, and 7271 Hardware Points. The distribution per League is as follows: 10% for Elite, 35% for Extreme, 7% for Apprentice, 23% for Enthusiast, 6% for Novice, and 26% for Rookie. The representation of the active community is as follows: 3% Elite, 6% Extreme, 4% Apprentice, 14% Enthusiast, 11% Novice, and 62% Rookie.
Heads up guys. The ASUS RealBench Challenge kicks off once more on OC-ESPORTS in exactly one week from today with the arrival of Challenge III. Just to remind you about the contest's structure, it is divided into four separate rounds, or Challenges, each with specific rules and limitations. A few weeks ago we saw conclusion of Challenge II with French overclocker Wizerty clocking up his second win of the contest. It will be interesting to see if he can keep his winning streak going in Challenge III.
Kicking off on October 28th, Challenge III will run until November 7th and offers a slightly different challenge from the first and second challenges as processors are in fact limited to two cores only. Combatants can still use any CPU, but they must ensure that only two cores are active when running the benchmark. As with the previous challenges, no Socket 2011-3 processors (X99 platforms) are allowed and hardware cooling is restricted to non-extreme methods i.e. CPUs must be shown to be over 20 degrees Celsius.
Don't forget that the contest is open to HWBOT members from all leagues. Combatants must use the custom HWBOT version of the RealBench app. A more complete listing of all the rules, limitations and scoring can be found here. Remember, prizes are awarded to the winners at the end of each Challenge, but don't forget that the main prizes on offer includes next-generation ROG motherboards for the top three finishers. Challenge III prizes include an ROG Sheath gaming mouse pad, plus an ROG Spatha gaming mouse.
Check out the ASUS ROG RealBench Challenge III contest page here on OC-ESPORTS. . As well as more details about the contest here on the ROG website.
It's been literally a week since k|ngp|n took down the World Record for 3DMark Fire Strike. Today he's gone and broken it again, putting even more light between himself and the rest of the world's mere mortals. Last week he claimed top spot with a score of 47,621 marks. Today he has pushed that out to nudge just past the 48K barrier, scoring 48,070 marks.
The rig used to break the World Record was of course almost identical to the monster he had running last week. The machine is based around an Intel Core 6950X mounted on an EVGA X99 FTW-K motherboard. The LN2 chip was pushed just a little further than in last week's session, hitting 5,250MHz, a massive +75.00% beyond stock settings (and 0.77% faster than last week). The graphics array used remains the same too, with four Nvidia Titan X Pascal cards.
Interestingly the GPUs were configured at identical clock speeds as last week's run, buzzing along at 2,200MHz (+55.26%), but in terms of memory today's score has a frequency of 1,450MHz, which is a snip slower than what we saw last week when it was set at 1,470MHz. Other components of note include a G.SKILL Trident Z DDR4 kit and SuperNOVA NEX 1,600 Watt power supply.
The score puts k|ngp|n way ahead of the pack. The nearest competitor is Sweden's Elmor who managed a score of 46,873 using four GTX 980 Ti cards. How much performance can be squeezed out of the Titan XP cards? Only time will tell. I have a feeling I may be writing something similar to this story a week from now. Be sure to watch this space.
You can check out the new World record score from k|ngp|n here, as well as the full 3DMark Fire Strike rankings here.
TechPowerUp have just released an update to the GPU-Z graphics utility app, adding among several other things support for a bunch of newer GPUs including the recently launched GTX 1050, GTX 1050 Ti cards. Version 1.12.0 also adds support for a bunch of mobile GPUs, server GPUs and AMD chips. The full list includes the GTX 1070 Mobile, GTX 1060 Mobile, Quadro P6000, 920 MX, and 940 MX, AMD Radeon R9 M385X, and R5 315; Intel HD Graphics 620 and 515. The last two on the list are iGPUs from the new Kaby Lake series.
There are also a few new features to mention. According to btarunr:
"GPU-Z now displays NVIDIA "Fermi" DirectX feature-level support as "11.0" and SLI status for GTX 1060 and GTX 1050 series is displayed as "not supported by GPU." New AMD socket AM4 APU platforms will correctly show memory type as DDR4 on motherboards with DDR4 memory. The BIOS Database uploader is made more functional, letting you open the Database page for the uploaded BIOS (or if your BIOS is already uploaded.) The PCI-Express warm-up stress test window now spawns to the left of the GPU-Z window, if the main window is too much toward the right of your screen."
Here's the full change-log:
- BIOS upload dialog will now let you browse to the uploaded or duplicate BIOS
- NVIDIA Fermi DirectX support is now listed as 11.0
- GTX 1050 & 1060: SLI support field now shows "Not supported by GPU"
- Sensor window will now scroll by larger distance when clicking outside the thumbtrack
- When GPU-Z window is at the right edge of screen, render test will open to the left of the GPU-Z window
- Added DDR4 detection support for AMD Kaveri
- Added support for NVIDIA GeForce GTX 1080 Mobile, GTX 1070 Mobile, GTX 1060 Mobile, GTX 1050 Ti, GTX 1050, 920 MX (GM108), 940 MX, Quadro P6000
- Added support for AMD R9 M385X, R5 M315
- Added support for Intel HD Graphics 620, HD Graphics 515
You can find the latest GPU-Z version 1.12.0 here at TechPowerUp.
[Press Release] GIGABYTE TECHNOLOGY Co. Ltd., a leading manufacturer of motherboards and graphics cards is proud to announce today, the launch of the newly revamped BRIX updated with the latest Intel® 7th Generation Core™ Processor. This compact PC will support the newest in multimedia standards as well as a 10% increase in graphics performance relative to its predecessor.
7th Generation Core Processors
The new BRIX barebones raises the bar once again with the new Intel® 7th Gen Core™ processor family—delivering more responsive performance than ever before. This 7th Gen Core processor utilizes a power efficient microarchitecture, advanced process technology and silicon optimizations to deliver faster performance than previous generation processors. By leveraging Turbo Boost 2.0 Technology, performance and power is dynamically controlled—for cores and graphics—boosting performance precisely when it is needed, and saving energy when it counts.
New Standards and Support for Graphics and Multimedia
With the new Intel® HD Graphics users can experience more with the increase in graphics performance, 10% greater than the previous generation BRIX. This new media engine offers HEVC 10-bit hardware acceleration that significantly improves upon 4K content playback as well as content creation when compared to previous generation processors.
GIGABYTE has also gone to ensure that users won't be limited by the standards or connections on the BRIX, by including HDMI2.0 and support for HDCP 2.2, users can rest assured that their device will be able to display content to its full potential. With multiple display outputs, the BRIX can be configured as both a high productivity PC and an entertainment center. Other use case scenarios may include industrial and commercial multi-display applications.
Just like every month we have a look at the SuperPI 32M low-clock challenge threads in our forum and make a list of the most efficient overclocks for various CPU architectures. In the Intel category, Micka (China) is currently still leading with his Skylake submission of 5 min 52.953 seconds. In the AMD category Demac (Greece) is still leading the race with a time of 9 min 57.485 seconds, but of course we are waiting for the first results with DDR4 on AM4 platform. FUGGER is the only overclocker with a new score on the board, scoring 6min 6.266s in the Broadwell-E category.
Check out the full table below. For more information and efficient SuperPI 32M overclocking results, check out the low-clock threads in our Overclocking and Tweaking sub-forum and the SuperPI 32M Low Clock - Fastest Per Architecture forum thread.
Congratulations to all the leaders in their specific categories!
HWBOT X just published a blog post about the recent rAge 2016 Expo event in Johannesburg, South Africa were DrWeez and Pepinorang held a workshop entitled the PC Building 101 Workshop. The idea was to give attendees at the show a chance to learn how to build their own PC and then learn to tweak it like a pro:
"Running from October 7th to 9th, the PC Building 101 Workshop was sponsored by MSI and completely free and even gave attendees a chance to show their newly acquired tweaking skills by running a benchmark to see how high they could score. The highest scoring winner was then awarded the fantastic prize of taking away the actual rig that he built and overclocked."
"The workshop proved to be a big hit with attendees at the show with more 70 visitors attending the workshop each day. The day kicked off with a presentation from DrWeez who explained the basics of PC building. He then would go on to show attendees the basics of PC construction, from prepping and installing the motherboard in the chassis, adding drives, installing the PSU and finally entering BIOS to setup and prepare the OS install. Once the PC was built, Pepe was on hand to show them, how to tweak and push the machine to the max."
You can read the full blog post here the on the HWBOT X website.
It's that time of the week again were we look back with a tear of nostalgia to a time when the world overclocking was a little different than it is today. This week we take you back to a day in 2009 when HWBOT launched the very first Country Cup contest. In fact the HWBOT Country Cup 2009 was the first ever official HWBOT contest, providing a solid temple for subsequent contests and competitions run outside the purview of industry vendors. Here's what Massman had to say back in 2009 when introducing the contest to the community for the first time:
"Wake up everyone!! HWBot is excited to present its first official competition. The concept is completely different from all other competitions so far, so let us explain."
"The competition consists of seven benchmarks spread over seven weeks. In other words, chances are big that you will not have the time to submit a world record breaking result, which makes it interesting to see who will come up with the best result within a very limited time-frame. The results are grouped per country and countries are ranked based on the average score of the top-3 submissions. So, in order to win, you will have to motivate your fellow overclockers to submit good results. Per stage, countries are awarded points and the country that gathered most points at the end of seven stages wins the competition."
The contest of course proved to be a roaring success, something which is proved by the fact that the this year's 2016 Country Cup is as eagerly anticipated as ever, kicking off in just a week or two from now. In 2009 the eventual winners were the Romanians who stormed to victory thanks to some truly great work from Matose and Monstru, legendary names that echo through the corridors of OC history even today.
Check out the original news post from back in 2009 here, as well the Country Cup 2009 contest page which can still be found here.
The latest edition of The Overclocker magazine is now available via Joomag. For those of you in the dark, it's a magazine dedicated all things OC. From hardware reviews, interviews with leading overclockers plus insight and comment regarding the PC hardware industry, The Overclocker is arguably the ultimate overclocking magazine.
Issue #39 covers a lot of ground and includes reviews of the latest GIGABYTE pascal series graphics cards, a look at the OC-ESPORTS rankings an article about AMD 480 LN2 overclocking and a look at the highly anticipated AMD Zen architecture CPUs. The issue kicks off with a great interview with Buildzoid, the guy behind the Actually Hardcore Overclocking YouTube channel and a captain of the Reddit /r/overclocking team.
Here's a sample of the Buildzoid interview: : "The name Actually Hardcore Overclocking is because there are so many sites that have overclocking in their name but as far as I'm concerned they don't cover overclocking in-depth enough so I slapped the Actually in front of Hardcore Overclocking and went with that for my computer hardware blog where I covered overclocking as in depth as I could manage. Later on I tried to livestream my OC sessions and since I was archiving those to youtube I decided to start using the youtube channel for the their content as well."
Regarding the GIGABYTE 100 series graphics cards: : For now, we are looking at a trio of three graphics cards from GIGABYTE. The new G1 GAMING line of GPUs which if the previous series is anything to go by, should be offering some of the highest levels of performance available to end users. As always, it's a matter of designing a customized PCB based on the Founder's Edition design. Configuring a custom BIOS/Firmware profile and finally wrapping it up in as capable a cooling heatsink complex as possible within the price bracket.
There's also a look at the GIGABYTE Z170Z-X Ultra Gaming motherboard, a review of the G.SKILL Trident Z DDR4 3200MHz 32GB kit plus a look at the GIGABYTE P57K V6 notebook.
You can find The Overclocker issue #39 here at Joomag.com
It's official. The latest version of HWBOT x265 is here and ready to go. Updated from version 1.2.0 released last September, the 2.0.0 version adds an upgraded and improved encoder version 2.0.0.24, user selectable instruction sets, real-time monitoring, and an upgraded CPU-Z plus a few other fixes.
Developed by Czech developer and HWBOT member Havli, HWBOT x265 Benchmark is based on the open source x265 encoder. It can take advantage of modern CPUs instructions and scales well with multi-core processors. With two presets available, 1080p and 4k, the main workload involves converting H264 source video to H265/HEVC and measure average fps. Havli had this to say about the latest 2.0.0 version:
"HWBOT x265 Benchmark v2.0.0 is based on improved x265 encoder, build 2.0.0.24 (compiled by GCC). Compared to previous version (1.7.0.374 GCC), the new one greatly improves encoding speed on virtually all processor architectures. Also multi threading seems to be better - the bigger your CPU is, the better relative fps gain you can expect."
Here's the full change-log:
-The x265 encoder upgraded to v 2.0.0.24
-User selectable instruction set to use for benchmarkX
-Real time monitoring introduced, using Open Hardware Monitor 0.7.1.5 Alpha
-CPU-Z upgraded to version 1.77
-Fixed elapsed time and remaining time indication - it is no longer timezone dependent.
The latest 2.0.0 version HWBOT x265 encoder is available from this link. You can also find the updated change-log page here and lots more useful information here on the hw-museum.cz website.
Note: Older version of the benchmark are still supported on HWBOT.
Page 1