Today`s top benchmark scores.
Our Motherboard Memory Lane series today arrives at the AMD Socket FM1 era. The arrival of the FM1 Socket heralded a significant change in direction for AMD which launched its first Accelerated Processor Units or APUs in the market. Aimed at the mainstream to entry-level segment the new platform hoped to woo PC enthusiasts and overclockers with a relatively decent CPU coupled with a much beefier integrated GPU. Let's take a closer at the new platform, the motherboards and processors that were popular during this era and of course, some of the most notable scores posted on HWBOT.
The arrival of the AMD FM1 Socket marked a pivotal change in the overall AMD product lineup. Socket FM1 would become the mid-range and entry-level platform leaving the mature AM3+ platform to spearhead its high-end offerings. Whereas previous mainstream platforms from AMD had relied upon a Northbridge Chipset such as the AMD 880G and AMD 880GX to deliver integrated graphics and digital display outputs, the new FM1 platform used Accelerated Processor Units had a much more substantial GPU baked into the processor itself. AMD would later release its Bulldozer-based AMD FX series processors on the AM3+ platform in an attempt to better compete with Intel's recently arrived Sandy Bridge offerings.
Continue reading
Greek Overclocker OGS clearly had a busy and productive couple of days over the weekend, managing to post a bunch of really impressive scores that have ultimately pushed him up to fourth place on the HWBOT worldwide rankings. Among the nine submissions that he posted yesterday, we have four Global First Place scores. Let's take a look at these scores and the fairly broad range of hardware used to achieve them.
Let's start with OGS's skills at 3D benching and take a look at the new single GPU Global First Place score for the 3DMark11 Performance benchmark. The new highest score for a single card now stands at 44,282 marks, which beats the next best from OC legend k|ngp|n with 43,798 marks. OGS used an Intel Core i7 6950X 'Broadwell-E' chip clocked at 5,175MHz (+72.50%). This was joined by a GeForce GTX 1080 Ti with the Pascal GPU clocked at 2,645MHz (+78.72%) and graphics memory at 1,555MHz (+13.01%). His X99 platform motherboard of choice is a GIGABYTE X99-SOC Champion.
In 2D benching to managed to pull off a leading score with a dual-core CPU, hitting a Global First Place score in the HWBOT x265 4K benchmark of 6.6 fps. This is just ahead of Italian xMec with a score of 6.5 fps. The new GFP score was made using a Core i3 7350K pushed to a very nice 6,498MHz (+54.71%). His rig in this case was based on the ASUS ROG Maximus IX Apex board. Using the 1080p preset of the same benchmark he used the same Kaby Lake processor at the same speed to hit a score 28.36 fps, another dual-core Global First Place. In the quad-core rankings he returned to the HWBOT x265 4K benchmark OGS was armed with a Core i7 7700K which he pushed to 6,733MHz (+60.31%) to score 13.29 fps, also a Global First Placed score. With the same settings on the same rig he also took down the 1080p benchmark top spot, hitting a score of 56.18 fps.
OGS is now the No.1 overclocker of Greece and No.4 in the worldwide rankings here on HWBOT with 2,490.8 points. Nice going sir!
A few weeks ago we published an opinion poll here on the HWBOT page (just to the right of this news post). It posed a question related the recent emergence of new High-End Desktop (HEDT) components from both Intel and AMD, asking which which of the available (or soon to be available) processors you would find most tempting this summer. Today, the results are in.
Of course, in recent years the HEDT space has basically been owned by Intel (the company that indeed coined the acronym HEDT in the first place). Intel's HEDT offerings go way back to the days of Gulftown and its first Extreme Edition lineup. In recent years we've had adapted server chips based on Sandy Bridge, Ivy Bridge, Haswell and Broadwell architectures. These brought more cores, more PCIe lanes and features like quad channel memory to the humble desktop. It also meant getting involved in an eco-system that was much more expensive of course. The Broadwell-E deca-core Core i7 6950X commands prices of around $1,600, making the HEDT space one where only those with the deepest of pockets could play.
Having finally managed to make themselves relevant again in the mainstream CPU space with its Ryzen processor series, AMD plan to launch Threadripper series CPUs that will give HEDT uses a few new options. The Threadripper chip that has so far garnered the most attention from media is the 16 core (32 thread) AMD 1950X, a monster that will offer 64 PCIe lanes, 32MB L3 cache and a ton of grunt. All for around $1,000. Sounds tempting, but according to our poll, apparently not everyone is ready to bite.
In regards to AMD's new HEDT offerings, more 57% of the 431 HWBOT members polled are keen on shelling out for an AMD TR4 platform, chip with 21.11% of users tempted by the monster TR 1950X. Almost a third of those polled would prefer to stay with tried and trusted Intel platform Core i7 and Core i9 offerings, with the Skylake-X Core i9 7980XE chip being most popular with 10.21% of the votes.
Interestingly however the biggest vote went to neither Intel or AMD. 29.47% of those polled would simply prefer not to buy a HEDT processor this summer. Is this due to prohibitive pricing? VRM-gate? Or perhaps folks are perfectly happy benching with Kaby Lake and Ryzen and just don't feel compelled to splash this summer? Chime in with your thoughts below.
In his latest PCB breakdown video we find Buildzoid taking a peek at a stripped down graphics card from Zotac, a Macau-based company that is famous for creating smaller components for Mini-ITX and SFF builds. One such product is the Zotac GTX 1080 Ti Mini, a graphics card that attempts to take all the performance you'd expect from a Pascal-based 1080 Ti card, presented in a much smaller design that is gonna fin inside a Mini-IX build. Buildzoid takes a look at the PCB to discover exactly what the Zotac engineers did to reduce the size of the card.
As you would expect, reducing the size of a high-performance component involves making certain compromises. For example he notes how there is a complete lack of input filtering chokes for the pair of 8-pin power inputs. A fact that could become a problem when GPU power draw suddenly causes current spikes, especially when overclocking without a top quality PSU. The vcore VRM features an 8 stage design that uses a uP9511 buck controller from uPI, a pretty much standard controller chip for a high-end Pascal card. The uP9511 is a true 8-phase controller (which means the VRM uses no doubling) with a switching frequency of 600KHz. The VRM is calculated to be capable of 200A at 35W, which as Buildzoid explains is way off what you would see on most hi-end, full length cards.
Buildzoid points out several other key design features that have been made in order to shrink the PCB down to Mini-ITX compatible levels. None of these decisions help make the card real contender for extreme overclocking, which I'm sure is not a huge surprise. You can catch the video from Buildzoid here on the Actually Hardcore Overclocking YouTube channel.
The latest podcast from Hardware Asylum is now available. In Episode 77a Dennis Garcia and Darren McCain take on the topic of digital currency mining and its effects on the PC component market and more. Here are the show notes:
In the time between when this Podcast Extra was recorded and subsequently released we saw Ethereum rise the popularity viral ranks, crash due to fake (or staged) news on 4chan, recover (kinda) and then completely fall out of popularity due to mining difficulty and share price.
It makes you wonder how big corporations actually made money back before the Great Depression and before the advent of stock regulations. it is a little known fact that stock manipulation and deceptive news stories would cause investors to flood or dump a stock based on nothing more than what a respected reporter was publishing. This often lead to quick sales or prompting investors to short a stock in hopes it will go down in price. Stuff like that has become more difficult these days however in the cryptocurrency world something as simple as a fake death story can cause investors to dump everything which will cause the price to plummet as investor confidence declines . It also creates a perfect investment opportunity much like it did for the American stock market some 100 years ago. So, why the history lesson?
Well, I am getting really tired of NVIDIA Pascal based GPUs always being out of stock. At first, during the launch, it was due to demand and low stocks. However, now it is because the superior power efficiency is making GPU mining more affordable. In fact ASUS has released a dedicated mining card based on the GTX 1060 that is just like any other video card except it has no video output. This makes the card worthless on the open market but gives miners a dedicated product for crypto mining with increased reliability while leaving the gaming GPUs to do what they do best in the hands of enthusiasts that know how to use them.
Catch the full podcast here on Hardware Asylum.
In the months following AMD's highly anticipated Ryzen micro-architecture launch, enthusiasts and overclockers have adopted the new AMD Ryzen processors and propelled AMD back to 2013 activity levels. AMD's processors stand at a 24.75% share, up from 9.05% in January 2017. Intel's dropped from 90.84% to 75.17% in the past six months. However during the first half of 2017, Intel's enthusiast eco-system has shown to be strong enough to withstand the recent surge from AMD as their enthusiast base grew 20% and 16% in 1Q17 and 2Q17 respectively.
The information is based on data provided by HWBOT, an enthusiast and overclocking-oriented organization which tracks benchmark world records and organizes overclocking activities. The data is based on self-reporting enthusiasts sharing their overclocking achievements. It excludes data from applications not compatible with AMD hardware. The data shows a significant uptake in AMD activity from January to June highlighted by a peak jump around 2Q17 time-frame when the AMD Ryzen 7 processors launched globally. It follows similar reports from Passmark AMD vs Intel Market Share charts and LinusTechTips' 2Q17 Viewer's Choice PC data.
Despite the positive news, AMD still has a lot of work to do if they want to pose a real threat to Intel's dominance in the enthusiast space as since 2007, it has not been able to catch 30% of the market.
You can read the full report here on HWinsights
Over the last few days we've seen some pretty interesting action regarding the 3DMark03 benchmark with the World Record changing hands a few times. Just last Friday we brought you news that Sweden's No.1 overclocker Rauf had managed to submit a World Record score in the 3DMark03 benchmark. His record score of 359,451 marks did not last long however. TeamAU just hours later, posted a score of 359,792 marks. In both cases the hardware used consisted of the latest Kaby Lake-X Core i7 7740K processor and an Nvidia GTX 1080 Ti card.
Within hours of the TeamAU submission, Rauf proved that he still had plenty left in the tank, posting a score that broke the 360,000+ barrier for the first time. With a Core i7 7740X chip clocked at 7GHz, a GALAX Geforce GTX 1080 Ti card pushed to 2,550MHz (+72.30%) / 1,600MHz (+16.28%) he managed to hit a score of 360,721 marks, reclaiming the 3DMark03 World Record. Other rig components include an ROG Rampage VI Apex motherboard with DDR4 memory clocked at 2,078MHz (12-11-11-28).
Enter Dancop. The current German and World No.1 ranked overclocker entered the 3DMark03 fray armed with a Titan Xp card with the GPU configured at 2,550MHz (+72.30%). With 3DMark03 being quite an old benchmark however, CPU grunt remains a vital factor. Dancop managed to push his Core i7 7740K to several MHz higher than his competitors, hitting a CPU clock frequency of 7,169.4MHz (+66.73%). The upshot of all this work was a new World Record score of 365,098, well and truly blowing the doors off that 360K barrier!
You can find all the scores in the links above, as well here on the TeamAU, Rauf and Dancop profile pages.
It's not every day that we find the regular tech media really willing to pull back the curtain and delve a little deeper into the technology that is driving our modern PCs. Which s why it is pretty refreshing to see Gamers Nexus chief Steve Burke take time to interview two of AMD's most technically adept employees. A little while back Steve managed to get some quality time with Sam Naffzieger and Micheal Clarke, a Chief Architect from AMD, who is intimately familiar with the processes and strategies that that were used to create the new Ryzen architecture. The whole interview is caught on video, but for those of you who like to read, here's a sample of their conversation in regards to uOp caching, power optimizations, shadow tags and more:
Michael Clarke:"One of the hardest problems of trying to build a high-frequency x86 processor is that the instructions are a variable length. That means to try to get a lot of them to dispatch in a wide form, it's a serial process. To do that, generally we've had to build deep pipelines, very power hungry to do that. We actually call it an op-cache because it stores [instructions] in a more dense format than the past; what it does is, having seen [the instructions] once, we store them in this op-cache with those boundaries removed. When you find the first one, you find all its neighbors with it. We can actually put them in that cache 8 at a time so we can pull 8 out per cycle, and we can actually cut two stages off that pipeline of trying to figure out the instructions. It gives us that double-whammy of a power savings and a huge performance uplift."
Sam Naffziger: : "X86 decode, the variable length instructions, are very complex -- requires a ton of logic. I mean, guys make their career doing this sort of thing. So you pump all these x86 instructions in there, burns a lot of power to decode them all, and in our prior designs every time you encounter that code loop you have to go do it again. You have this expensive logic block chunking away. Now we just stuff those micro-ops into the op-cache, all the decoding done, and the hit-rate there is really high [Clarke: up to 90% on a lot of workloads], so that means we're only doing that heavy-weight decode 10% of the time. It's a big power saver, which is great. The other thing we did is the write-back L1 Cache. We aren't consistently pushing the data through to the L2, there are some simplifications if you do that, but we added the complexity of a write-back so now we keep stuff way more local. We're not moving data around, because that wastes power.
Catch the full interview from Gamers Nexus here on their YouTube channel, plus a written article here which is perhaps more suited to the readers amongst us.
In Week 29 of 2017, we received 3305 benchmark results from 870 registered overclockers around the world. The majority of the submissions is coming from Rookie overclockers representing 59% of the active community. They were responsible for 40% of the submissions. We had a peek at the most valuable submissions in a breakdown per league.
With the Core X platform more readily available and the expansion of the Ryzen CPUs, enthusiasts have a lot of choice for their rigs. On the leaderboard this week we find 4 golden entries. First up is Dancop from Germany with a World Record in 3DMark03. He beat TeamAU and Rauf's earlier efforts by 5000 points using a Core i7 7740X processor clocked at 7170 MHz and a Titan Xp grapbics card clocked at 2379/1603 MHz. Next up is H2o vs. Ln2 from the United States who scored a hardware first place in the GeForce GTX 1070 3DMark Time Spy benchmark. The final score is 8143 marks with the graphics card overclocked to 2240/2451 MHz and a Broadwell-E Core i7 6950X overclocked to 4700 MHz. Both are of course cooled with custom loop water cooling. Now it's Italy-time! xMec scores a Global First Place in the 2xCPU HWBOT x265 1080P benchmark with a Core i3 7350K processor clocked at 6565 MHz. The benchmark only recently has points enabled and across all categories overclockers are currently aiming for the top spots. Last but not least we also have xXbladeXx from Italy. He scored a new hardware first place in the heavily contested Core i7 4790K XTU leaderboard. xXbladeXx manages to get his CPU stable at 6.1 GHz and scores 10 points more than Xtreme Addict. Congratulations to everyone making the leaderboard!
The most used hardware components of Week 29 are the Core i7 7700K (12.3%), GeForce GTX 1080 (10.9%) and the ASUS ROG Crosshair VI Hero (2.3%). In total the community used 341 different CPUs, 231 different GPUs and 777 different motherboards.
The overclocking results submitted during Week 29 generated in total 495 World Record Points, 7435.2 Global Points, and 6337.9 Hardware Points. The distribution per League is as follows: 32% for Elite, 31% for Extreme, 7% for Apprentice, 12% for Enthusiast, 6% for Novice, and 19% for Rookie. The representation of the active community is as follows: 3% Elite, 9% Extreme, 4% Apprentice, 16% Enthusiast, 9% Novice, and 59% Rookie.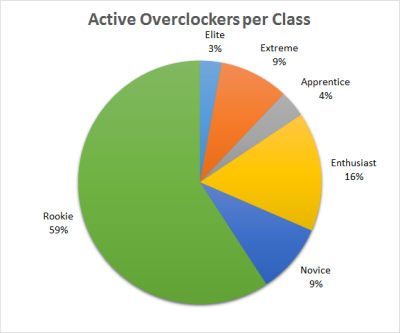 The guys over on the HWBOT World Tour site have just published a Prize Giveaway to celebrate the Cape Town 2017 leg of the World Tour which gets underway in just under week from now. If you fancy winning some prizes from Corsair and Seasonic, this may just to right up your street:
In celebration of the fifth HWBOT World Tour stop of the year in Cape Town, South Africa we have teamed with partners Seasonic and Corsair to bring you a fantastic opportunity to win some great prizes. Kicking off on July 21st, all you have to do use the link below to enter the Cape Town 2017 Challenge. It's basically a Giveaway where the more social media actions you complete, the more chance you to win.
Cape Town 2017 Challenge: Prizes
Seasonic Snow Silent 750 PSU - The latest Seasonic Snow Silent 750 PSUs will be used to power the Overclocking World Championship Qualifier contest as well as Overclocking Workshop systems that we setup at EGE. Seasonic Snow Silent 750 power supplies boast 80 Plus Platinum efficiency and a completely silent operation below 50 % system load.
Corsair Hydro Series H80i v2 All-in-One Cooler - The Hydro Series H80i v2 is a high performance, all-in-one liquid CPU cooler that works with a standard 120mm radiator mount, offering great heat dissipation helps overclockers and enthusiasts push the latest high-performance processors to the max.
To enter the Giveaway, go to the HWBOT World Tour website here and get started.
Swedish No.1 Rauf has just made a submission which has broken the World Record score for the classic 3DMark03 benchmark. Rauf's score scoots past the previous best submitted by TeamAU back in early June of this year. Let's take a look at the hardware used and the configuration that is earning Rauf this new World Record.
The new World Record score in the 3DMark03 benchmark now stands at 35,9451 marks. It was made using two key components, an Nvidia GTX 1080 Ti card and a Kaby Lake-X Core i7 7740X processor. Being an older benchmark that isn't designed to take advantage of the latest GPU architectures, the key to scoring highly is to push to both CPU and GPU in pretty much equal measure. On the CPU side of things we find Rauf pushing his Core i7 7740X to 7GHz which is +62.79% beyond stick settings, a really high frequency that can really pay off in this benchmark. Equally impressive is his Pascal GP102 GPU which was pushed to 2,500MHz, a massive +72% beyond stock with graphics memory tuned nicely to 1,600MHz (+16.28%).
Other notable hardware includes the latest ASUS ROG Rampage VI Apex motherboard (yes, him with the substantial VRM heatsinks) plus a G.SKILL DDR4 Trident Z configured at 2,073MHz (12.0 11-11-28). The rig was also powered by a monster Super Flower 8Pack Edition 2,000 watt power supply.
The new high score beats the previous best from TeamAU by quite a decent margin. Early in June of this year they managed a score of 35,6678 marks using the same two key hardware components. The new World Record earns Rauf an additional 100 WR points and 115 Global Points, elevating ho, him to a ranking of 11th in the Worldwide HWBOT rankings.You can find all the scores in the links above as well as here on the Rauf profile page.
Page 1