Today`s top benchmark scores.
Today's trip down GPU memory lane is all about the NVIDIA 7 series that arrived on the scene in June 2005. Where previous GPU designs had heralded major innovations and the introduction of entirely new technologies, the 7 series was more of an update by comparison. The new GPU arrived with a change in nomenclature and notably a change in the way that NVIDIA graphics cards were actually launched - NVIDIA and AIB partners had products shelves on the very same day that the press embargo was lifted. Let's look at the GPUs and cards that arrived as part of the new 7 series launch, the cards that have since proved to be popular with overclockers on HWBOT and of course, the notable scores that grace our database to this day.
The NVIDIA GeForce 7800 GTX was launched on June 22nd 2005 as the company's brand new flagship card offering. At launch the card was immediately available in the retail channel, literally the same day, which at the time was largely unheard of. This was seen as NVIDIA more or less giving ATI the proverbial finger, as previous ATI launches had tended to be prefaced with vague 'coming soon... we hope' messaging. The 7800 GTX was based on the G70, the successor to the NV4x series that had powered the GeForce 6 series. The change in naming scheme was apparently a marketing decision with GeForce 7 being better represented by G70 than NV47. The NV70 was largely based on the same architecture as the previous generation and the NV30 generation that preceded it. The G70 again used Shader Model 3.0 with support for the DX9.0c and OpenGL 2.1. Nothing new there. The real interest is when you consider the rendering configuration.
Continue reading
After a comparatively quiet few months Germany's Dancop has awoken to the smell of LN2 smoke and has pushed his way back to the top of the HWBOT League. His recent work with the latest Coffee Lake Core i7 8700K has so far reaped him four Global First Place scores, but first, let's take a look at a new World Record in the 3DMark11 Performance benchmark.
Using a pair of NVIDIA GTX 1080 Ti cards Dancop submitted a new World Record score of 58,507 marks. The cards in question were ROG STRIX OC Edition cards, each of which were pushed under LN2 to a pretty incredible 2,455MHz on the GPU which is +65.88% beyond stock settings. Graphics memory was also boosted to 1,552MHz (+12.83%) . The CPU used was a 12-core Skylake-X Core i9 7920X which was pushed to a very impressive 5,644.62MHz, no less than +94.64%. His motherboard of choice for this session was an ROG Rampage VI Apex with 32M of G.SKILL Trident Z DDR4 memory configured at 2,016MHz (12-11-11-28).
The new 3DMark11 Performance World Record beats the previous best from slamms (Russia) who made a score of 58,179 marks back in May of last year using 4x GTX 980 Ti cards. In terms of dual GPUs, rsaninno is closest with a score of 57,983 marks about a month ago, also with two GTX 1080 Ti cards.
It seems also that Dancop has now acquired a decent Coffee Lake architecture chip. Pushing a hexa-core Intel Core i7 8700K processor he set a bunch of new Global First place records. The fastest ever six-core score in XTU now stands at 3,723 marks thanks to run with the 8700K chip pushed to 6,700MHz (+81.08%). The rig featured a G.SKILL Trident Z kit tuned at 2,001MHz (12-12-12-28) using an ROG Maximus X Apex board. The same rig was used to push the six-core GFP record for Cinebench R11.5 to 25.29 points. In Cinebench R15 he made a GFP score of 2,327 points. In Geekbench 3 he broke the six-core highest multi-core score with a score of 42,766 points. This was made with the Core i7 8700K pushed to 6,921.18MHz (+87.06%), the highest clock of the session.
All of the above means that Dancop now sits at the top of the HWBOT League rankings with a Total score of 3,094.3 points. This is just ahead of rsannino (Italy) 2895.9 points. You can find all the submissions and scores from Dancop in the links above as well as here on his profile page.
[Press Release] Taipei, Taiwan (20 October 2017) – G.SKILL International Enterprise Co., Ltd., the world's leading manufacturer of extreme performance memory and gaming peripherals, is thrilled to announce the release of a new high performance DDR4 Ripjaws SO-DIMM series for small-form factor (SFF) platforms, at DDR4-3800MHz CL18-18-18-38 32GB (4x8GB) at 1.35V, making this the world's fastest SO-DIMM memory kit. In addition, 3 new specifications will be added to the Ripjaws DDR4 SO-DIMM family, including DDR4-3600MHz CL16-16-16-36 32GB (4x8GB), DDR4-3200MHz CL16-16-16-36 32GB (4x8GB), and DDR4-3200MHz CL16-16-16-36 64GB (4x16GB). Such extremely high speed on SO-DIMM modules are achieved with the use of the ultra-high performance Samsung B-die DDR4 ICs.
Big Performance, Small Package - At Computex 2017 in June, G.SKILL demonstrated high-speed Ripjaws SO-DIMM series at DDR4-3466MHz, and we are now once again raising the speed of the fastest SO-DIMM memory kit to the intense mind-bending speed of DDR4-3800MHz. Validated on the latest ASRock X299E-ITX/ac motherboard and the Intel® Core™ i9-7900X X-series Processor, extreme memory performance is now a reality with small-form factor workstations.
Availability - These new powerful SO-DIMM memory kit will be available through authorized G.SKILL distribution partners in early December 2017.
Read the full press announcement from G.SKILL here.
Just like every month we have a look at the SuperPI 32M low-clock challenge threads in our forum and make a list of the most efficient overclocks for various CPU architectures. Check out the full table below. For more information and efficient SuperPI 32M overclocking results, check out the low-clock threads in our Overclocking and Tweaking sub-forum and the SuperPI 32M Low Clock - Fastest Per Architecture forum thread.
Congratulations to all the leaders in their specific categories!
In Week 42 of 2017, we received 4091 benchmark results from 958 registered overclockers around the world. The majority of the submissions is coming from Rookie overclockers representing 56% of the active community. They were responsible for 37% of the submissions. We had a peek at the most valuable submissions in a breakdown per league.
During Week 42 of 2017, three overclockers made it to the leaderboard with a golden cup. First up is Dancop from Germany. The new leader in the Overclockers League has been playing with a retail Core i7 8700K processor and it's been doing excellent. The golden cup is achieved in the XTU 6xCPU benchmark where Dancop hit a score of 3723 marks which is 62 points higher than Alex@ro's launch result. The CPU frequency is 6700 MHz. Next up is Rauf from Sweden who's took an important single GPU Global First Place in the 3DMark Time Spy benchmark. Following K|ngp|n and Xtreme Addict in the chase for 15K, the Swedish overclocker is now in the lead with a score of 14700 points. The graphics card used is of course the GeForce GTX 1080 Ti in combination with a 5600 MHz Core i9 7980XE processor. The clock frequencies of the graphics card are 2721/1645 MHz. Last but not least there's Hideo from Japan with a Hardware First Place in the GeForce GTX 580 Aquamark ranking. Paired with a 6925 MHz Core i7 7700K Kaby Lake processor, the new top score is 632301 marks. That is almost 3000 points higher than runner-up Bullshooter. Congrats everyone!
The most used hardware components of Week 42 are the Core i7 7700K (10.1%), GeForce GTX 1080 Ti (10.0%) and the ASUS ROG Rampage VI Apex (2.9%). In total the community used 338 different CPUs, 231 different GPUs and 770 different motherboards.
The overclocking results submitted during Week 42 generated in total 335 World Record Points, 8175.3 Global Points, and 8041.9 Hardware Points. The distribution per League is as follows: 18% for Elite, 20% for Extreme, 12% for Apprentice, 22% for Enthusiast, 10% for Novice, and 29% for Rookie. The representation of the active community is as follows: 2% Elite, 9% Extreme, 4% Apprentice, 18% Enthusiast, 11% Novice, and 56% Rookie.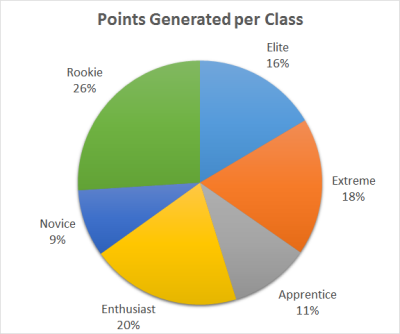 The HWBOT World Tour marches on today bringing overclocking to the masses of Taiwan. The Taipei II 2017 event is the second visit to Taipei this year following up the event we held there during Computex 2017 in June earlier this year. The event is taking place in the heart of Taipei City's technology district, with a booth setup for us directly between the famous Guanghua Digital Plaza, the tech market that sells every PC and electrical component known to man, and the newly erected Syntrend building, a much more modern and interactive take on consumer retail. The idea is to give local Taiwanese PC and tech enthusiasts a chance to encounter overclocking for the first time.
At our booth we have several system setup using the latest Skylake-X 12-core Intel Core i9 7920X processor, G.SKILL Trident Z RGB DDR4-3600 CL16 8GB memory and a variety of X299 motherboards from ASUS, GIGABYTE, MSI and ASRock. The systems are all mounted on portable Open Benchtables and are powered by Seasonic PRIME Platinum 850W power supplies. Very nice rigs indeed. Free Overclocking workshops are being offered to members of the public and are hosted by Coolaler, one Taiwan's most prominent and seasoned overclockers. After taking a short 30 min introduction to CPU overclocking via the Intel XTU app, attendees are then given the chance to start making some scores. After tweaking their system and improving performance they can submit scores to the OC-ESPORTS platform, a good way to see how well you doing compared to your peers.
You can find more photos of the Taipei II 2017 event here on the HWBOT World Tour website.
I don't suspect there aren't too many people out there who genuinely get excited about capacitor modding on graphics cards. Builzoid however is a big fan. Just to hear him talk about it, you get the impression that rather be at home cap-modding than doing anything else. In his latest video, he gives his burgeoning group of YouTube followers a thorough guide on the topic.
Capacitor modding is for most seasoned modders a fairly easy job. It's a simple modification that doesn't really require too much in the way of in depth component knowledge. However it can be fairly easy to screw up if you don't get the basics right and could cost you the price of the card you are working on. Like with any time you're using a soldering iron on a PCB, you need to pay attention not to fry your card in the process.
So a first question that anyone might ask is why do cap-modding anyway? What are we trying to achieve? Well one reason to eliminate a pesky thing called voltage-drop, an issue which happens when the GPU is far from the VRM, which is most of the time. The voltage might read a certain amount in GPU-Z, but in reality the GPU may not be getting the voltage it needs. Graphics cards often struggle with voltage fluctuations which again mean that the GPU isn't getting the cleanest and most consistent power delivery. Adding additional capacitors can help with all these problems, giving your card a more stable and clean power delivery.
If you are vaguely interested in video card modding, you will enjoy this video which can be found here on the Actually Hardcore Overclocking channel.
In celebration of the tenth HWBOT World Tour stop of the year at PAX AU in Melbourne, Australia next month we have again teamed with partners Seasonic and Alphacool to bring you another great chance to win some super prizes. It all starts tonight (October 20th). All you have to do use the image below (or this link) to enter the Melbourne 2017 Giveaway contest. The really cool thing is that the more social media actions you complete, the better chance you have to win a prize. What are you waiting for!!
Seasonic Snow Silent 750 PSU - The latest Seasonic Snow Silent 750 PSUs will be used to power the Overclocking World Championship Qualifier contest as well as Overclocking Workshop systems that we setup at PAX AU. Seasonic Snow Silent 750 power supplies boast 80 Plus Platinum efficiency and a completely silent operation below 50 % system load.
Alphacool Eisbaer 420 AIO CPU Cooler - Alphacool is fundamentally revolutionizing the AIO cooler market. Where traditional AIO CPU-coolers are disposable products which are neither upgradeable nor refillable, the Alphacool "Eisbaer" is modularly built and can be upgraded, rebuilt or refilled at any time and bring efficient cooling for your processor, no matter how hard you push it.
Read the full news post about the Melbourne 2017 Giveaway contest here on the HWBOT World Tour website.
HWBOT Hosts Overclocking Workshops and Competitive Ambient and Extreme Overclocking at PAX AU, Melbourne, Australia
[Press Release] October 19, 2017, Taipei, Taiwan - HWBOT, an organization regulating international Overclocking competitions and rankings, today officially announces its first visit to Australia, attending PAX AU in Melbourne on October 27th - 29th. The event will bring Overclocking Workshops plus competitive ambient and Overclocking Contests to a broad audience of Australia's most enthusiastic PC gamers. HWBOT Will also host a more social oriented Overclockers Gathering event and take part in a PAX AU Panel, discussing the performance of the latest multi-core processor platforms.
"We break into new territory once again when we take the HWBOT World Tour to Australia for the first time," commented Pieter-Jan Plaisier, Director at HWBOT. "PAX AU is a great opportunity for us to raise awareness of Overclocking with Australian gamers and enthusiasts while also engaging some of the world's most respected overclocking talent."
Free Ambient Overclocking Workshops for PAX AU Attendees - A central element of the HWBOT World Tour is the idea of spreading the word of overclocking to each and every corner of the globe. To that end all PAX AU attendees are invited to join us for free Overclocking Workshops. Systems with the latest 8th Generation Intel® Core™ processors will be set up at PAX AU with seasoned overclockers on hand to give you expert tuition.
Once you have learned the basics of how to tune the PC to improve performance, it's time to get hands and try it for yourself. After making a few scores using the Intel XTU benchmark, you can then submit it to the OC-ESPORTS competitive platform. If you are among the highest four scorers, you will invited back to compete in 1v1 Semi-Final and Final matches. The eventual winner will win some fantastic prizes and be crowned Melbourne 2017 Ambient Winner.
Read the full news announcement about the HWBOT World Tour visit to PAX AU here on the World Tour website.
The HWBOT World Tour embarks on its first trip down under in just over a week from today. From an extreme overclocking perspective the highlight of the event will be the Melbourne 2017 Overclocking World Championship (OCWC) Qualifier contest. It will see the region's top extreme overclockers compete for the chance to attend the OCWC Finals which will take place in Berlin, in December. Today we can bring you an update which confirms the hardware that will used, the format that will be employed and the benchmarks and other rules that will be used.
Overclocking World Championship – Melbourne 2017 Qualifier
Extreme overclockers in the ANZ region are invited to take part in the Melbourne 2017 Qualifier contest. The contest will take place at PAX AU 2017 at the Melbourne Convention & Exhibition Centre. Here's a breakdown of how the contest is organized:
-October 28th - 10am - 1pm: Qualification Phase
-October 29th - 1pm - 4pm: 1v1 Finals Phase
Read the full announcement concerning the structure, rules and hardware that will be used in the Melbourne 2017 OCWC Qualifier here on the HWBOT World Tour website.
This week's Throwback Thursday is all about a product announced by Albatron back in 2005 that allowed users to use their old AGP graphics card with a newer PCIe compatible motherboard. The product was marketed as the Albatron ATOP and targeted users who wanted to 'save on upgrade expenditures and extend the life your AGP card'. Here's a sample of the press release that Albatron put out back in 2005:
Because the AGP 8x standard has been around for a while and continues to provide more than adequate graphics performance, there still exists a large base of users with very capable AGP 8x VGA cards. Until now consumers have been hesitant to upgrade to a mainboard with the PCI-Express standard because it would also mean having to purchase a new PCIe VGA card. With the ATOP card you can now upgrade to a PCI-Express mainboard, continue to use your existing AGP-8x card and worry about purchasing a new PCI-Express VGA card at a later time.
Your AGP-8x card simply piggybacks on the ATOP card's AGP-8x slot located on the top edge. The ATOP card is then plugged into the mainboard's PCI-Express slot. The only other installation requirements are replacing the bracket on the AGP-8x card with an ATOP bracket and installing the appropriate driver.
We came across the product much later in October 2010 but in truth, e-bay scouring proved fruitless. The Albatron ATOP turned out to be even more mysterious and rare than we thought. If you have encountered or used to an Albatron ATOP adapter please go ahead and chime in with your reminiscences in the forum comments below.
Page 1