Today`s top benchmark scores.
Click on the competition images to go straight to the competition page, or click here for a more detailed overview at HWBOT.
Tournaments and Sponsored Contests
World Tour 2016 and HWBOT X
Soon ...
Rookie Rumble and Novice Nimble
Road To Pro - Season 2016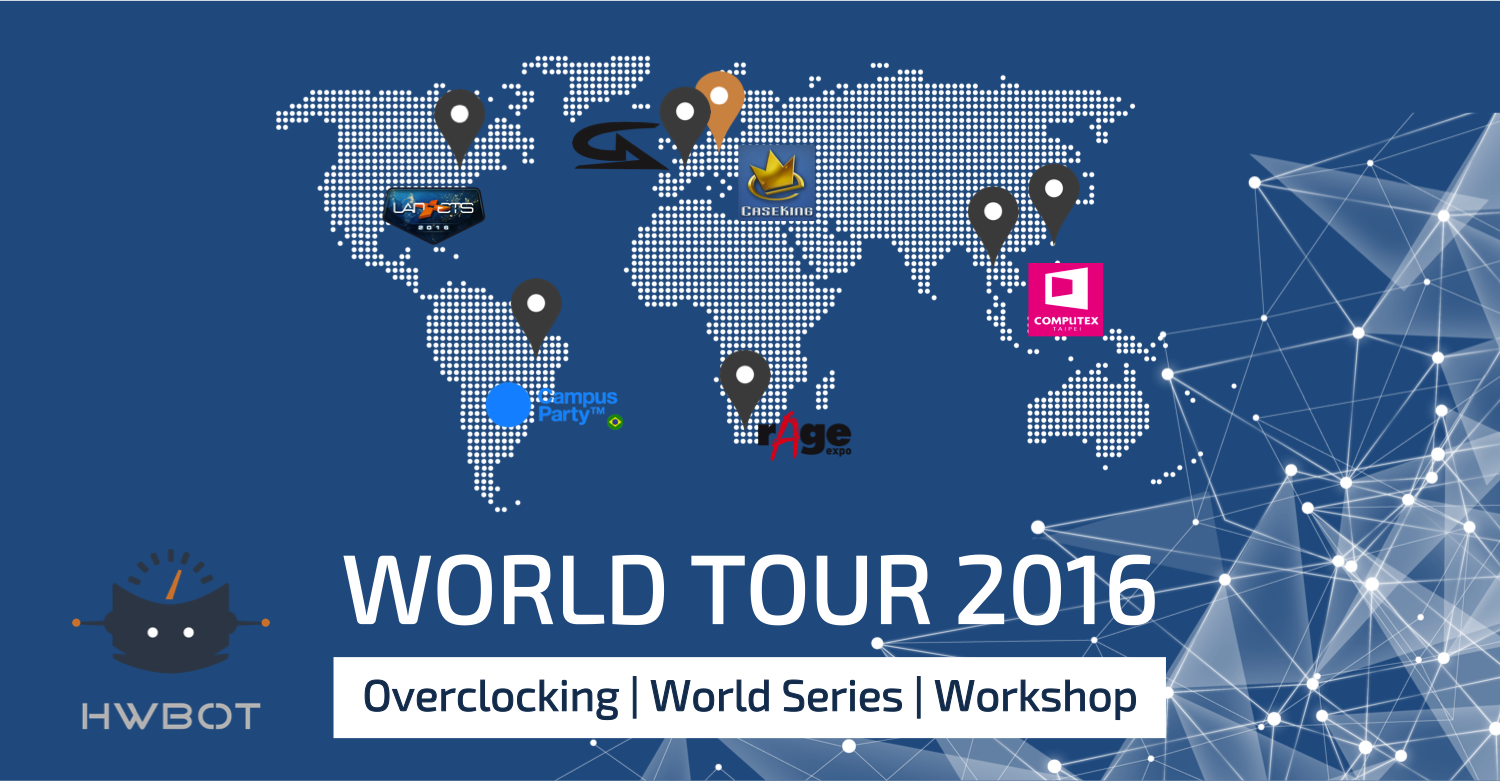 October 1, 2016 Taipei, Taiwan - HWBOT, an organization regulating international Overclocking competitions and rankings today officially announces the World Championship Final to held in Berlin, Germany on the 5th of December 2016. The World Championship Finals pits the winners from each of the HWBOT World Series winners, plus a wild card and a ROG Camp entrant, against each other in a bid to find out who is Overclocking Champion of the World in 2016.
The World Championship Final is truly a quest to find the best live OC contest player of the year. The contest features the six World Series winners from each of the six HWBOT World Tour 2016 events. The six World Series winners will be flown out to the Final and will be joined by the winner of the HWBOT World Championship Wild Card Contest winner. The eighth contestant will be the winner of the ROG Camp 2016, just to add some new blood and spice things up a touch.
Both HWBOT World Championship Wild Card winner and the ROG Camp 2016 winner will be announced at a later date.
Continue reading
The OC-ESPORTS points are a part of the equation for the HWBOT Overclockers League leaderboard as the league is based on a member's best 15 combined global and wr scores overall, best 20 hardware scores overall, and the 10 best OC-ESPORTS points from the past 365 days. To help you understand why you may lose points this point, below you can find a table of the competitions which will lose their points this month.
AMD formally announced its forthcoming Bristol Ridge-based APUs and CPUs a few weeks ago and while we have seen a few industry insiders take a peak regading performance ond overclocking headroom, there are still plenty of questions surrounding the new platform.
The good news is that a few days ago Anandtech's Dr Ian Cutress published a pretty detailed analysis of the new platform, pulling together all the details and clues that we have on hand. It's an interesting read for anyone who wants to understand the company's latest strategy, the new AM4 socket, new chipsets and the likely performance we can expect from AMD moving forward.
Here's a taste of what Ian had to say about Bristol Ridge's potential from an overclocking perspective:
"Given that technically the systems with the new APUs have been released for a couple of weeks, some vendors have their internal enthusiasts play around with the platform. Bearing in mind that AMD has not announced any formal overclocking support on these new APUs, NAMEGT, a South Korean overclocker with ties to ASUS, has pushed the A12-9800 APU to 4.8 GHz by adjusting the multiplier. To do this, he used an unreleased ASUS Octopus AM4 motherboard and AMD's 125W Wraith air cooler (which will presumably be bundled with PIBs later in the product cycle)."
Visit Anandtech for the full and very detailed article the covers pretty much everything related to Bristol Ridge.
It's not every day that the topic of overclocking, either competitive, extreme, casual or otherwise, actually meets a broad mainstream audience. Even though we have more Rookies and Novice overclockers than ever before, we have to admit that the topic remains largely esoteric and beyond the bounds of mainstream media. That said, it's interesting to see a media channel like CNET tackle the subject, and attempt to do it in a way where your average man in the street can understand. Luke Lancaster, writing for CNET published an article yesterday with the following title:

"The overclocking lowdown: How breaking your computer makes it faster."
A curious and slightly odd title. Broken computers do run faster than unbroken ones. Check out the sub-title:
"Some people crack open their computers, force their processors to run to near melting point and use liquid nitrogen to keep the whole thing in check. Here's why."
Despite the obvious 'click bait' title and sub-title usage, Luke almost manages to redeem himself as he plows through a layman's description of what overclocking is at the basic level and how some enthusiasts enjoy taking things to the limits. Here, have another taste:
"It's digital frontierism, testing components well outside of the recommended settings to push current tech further or jury-rig older tech to keep pace with the cutting edge. There's even a competitive benchmarking scene, with overclockers competing to hit the fastest speeds in standard computer performance tests. This is the extreme far end of the spectrum, incorporating things like liquid nitrogen cooling systems, and keeping CPUs at -100 degrees Celsius (around -140 degrees Fahrenheit)."
In his defense, I'm quite fond of the idea of 'digital frontierism' - I think he's nailed it there, but he seems surprised by the fact that there's 'even' a competitive benching scene. Anyway, here's my tuppence worth. The tone and nature of this article a) further underlines how detached from our world today's modern 'tech media' really are, and b) sadly reminds me of the truly dire state of modern journalism in general - a few hours (max) of research online, and I'm an authority on the subject. Listen to me.
Check out the full article on CNET, and don't forget to check out the comments. Chime in with comments in the forum thread.
Back in July of this year Xtreme Addict managed to live out his ultimate dream, edging past Dancop in the rankings to take the mantle of the World's No.1 overclocker on HWBOT. It was really great to see as Dancop replied with a few sandbagged scores and we then treated a real battle on at the top of the table – not something that tends to happen too often. Dancop eventually regained his position at the top of the table, largely helped by his acquisition of a few Nvidia Titan X cards – a big help seeing as it is the best performing consumer GPU on the market today.
This week we have seen a true revival of that battle with Xtreme Addict putting in some great work to once again climb to the summit of the HWBOT World Rankings. The really interesting thing is however, he managed to do it without using an Nvidia Titan X Pascal card.
You could argue that the Polish master's ascent to the top of the rankings kicked off when he paid a visit to the ASUS OC Summit meet up in Moscow last week. Running throughout the week it culminated in XA making a total of five benchmark submissions on HWBOT, each of which resulted a Global 1st Place Ranking. In one major session he claimed the top 4x CPU rankings for Cinebench R15, Cinebench R11.5, Geekbench3 Multi-core, GPUPI for CPU -1B and wPrime – 1024M.
XA didn't give up there however, as of two days ago he managed to use a GTX 1080 to take down the World Record for 3DMark05 with a score of 85,525 marks (beating his bench partner Smoke in the process). The same setup also brought home an Aquamark score of 635,931 marks… yet another Global 1st Place ranking.
On the same day he also managed to break the World Record in 3DMark03 with a score of 327,155 marks using a pair of GTX card 1080 cards. Using the same rig he then followed up with a World Record score of 10,770.17 DX11 Marks in Unigine Heaven Xtreme.
Wow. Insane stuff. What a week XA has had. I feel exhausted just writing about it. Huge respect to a worthy World No.1.
Seeing as it's Thursday once again, it's time for us to take a quick stroll down memory lane. This week however you won't have to think too far back, in fact just two years ago to a day in September 2014 when Germany's der8auer penned a very helpful guide article about how to get the maximum performance from a Haswell-E processor. It's actually a genuinely impressive bit of reverse engineering that shold tickle the spidey sense of any extreme overclocker.
Here's a taste of what der8auer was writing back in 2014:
"So in order to achive higher uncore clocks we have to modify some of the CPU voltages. This means we have to mod the CPU. Yes – talking about modding a USD $1,000 processor. There are two ways how to do this. The first way is the "lazy solution" and depending on your chip and board you should be able to run 4000-4200 MHz with this mod. For everything above you have to step up to solution two."
"I was trying to find the difference between the OC-Socket and the normal LGA2011 socket. So I just took the X99-SOC Force (no OC-Socket) and the X99-SOC Force LN2 (with OC-Socket) and measured the differences between the pins. After that I soldered thin wires to the empty pins of the CPU and measured the voltages while it was running. I came across two additional voltages which are not supplied on the normal socket, but are present on the OC-Socket. However the CPU internally supplies itself with different voltages there.The key is to get both of these to the same level and increase if you need even higher clocks. Since I have no pin-out of the OC-Socket or pin-in of the CPU itself I will name this "uncore supply voltage"."
Nice work from a true hardware modding master. You can read the full guide from Sept 29, 2014 here on HWBOT.
Today we are pleased to announce the return of the ASUS ROG Camp in 2016. The idea behind the ROG Camp is give overclockers with little or no experience of extreme sub-zero competitive overclocking a chance to get up to speed. An online qualification contest will be followed by eight overclocker attending a day-long LN2 workshop, followed by a day of competitive extreme overclocking.
As an extra incentive, the winner of the ASUS ROG Camp 2016 will be awarded with a ticket to compete at the HWBOT World Championship 2016
The ROG Camp 2016 is sponsored by ASUS, Der8auer ECC and Apacer and will hosted in conjunction with HWBOT and OC-ESPORTS. The event will be held at Caseking in Berlin, Germany on December 2nd and 3rd with select Apprentice, Enthusiast, Novice and Rookie overclockers invited to learn the art of sub-zero Overclocking from respected German overclocker der8auer.
HWBOT X just published a blog post about the recently held ASUS OC Summit in Moscow, Russia. As well as some of the biggest names in the country, the event also featured Xtreme Addict, marking the beginning of his most recent rampage that has once again seen him top the world rankings on HWBOT.
Slamms, Smoke, Atheros and XA were invited to the ASUS representative office in Moscow for the majority of last week. As well having a Titan X Pascal to play with (hooking up an Epower board for starters) the group was largely divided in to two groups, both benching on Core i7 6700K processors and ASUS boards. Smoke and Slamms focused on reaping as many points as possible from legacy 3D benchmarks using a GTX 1080 card, while XA and Atheros focused mostly on 2D.
In terms of World Records, I have a feeling that Team AU might not be too happy to see their recent hard work undone by the Russian contingent. Smoke managed to pull of new World records in 3DMark2001 and 3DMark06. He also managed a World Record score in 3DMark05 which Xtreme Addict subsequently beat just days later.
Last week was clearly a productive one for Xtreme Addict who also managed to achieve Global 1st Place rankings in Cinebench R15, Cinebench R11.5, Geekbench3 Multi-core, GPUPI for CPU -1B and wPrime – 1024M. This was the beginning of another full on assault at the World No.1 spot for the talented Pole who sits at the top of the world rankings once again.
Read the full bog post about the ASUS Autumn OC Summit here on HWBOT X. There is also this forum post started by Slamms here on the HWBOT forum. Nice work guys.
The RealBench Challenge runs until December 5th on OC-ESPORTS and is divided into four separate rounds, or Challenges, each with specific rules and limitations. It's only been a week or so since Challenge I of the ASUS RealBench Challenge 2016 contest concluded with French overclocker Wizerty taking top spot, but have no fear folks, Challenge II is right around the corner.
Staring on September 30th, Challenge II will run until October 10th and offers a slightly different challenge from the first as processor clock speeds are limited to no higher than 4,200MHz. As with Challenge I, no Socket 2011-3 processors are allowed and hardware cooling is restricted to non-extreme methods i.e. CPUs must be shown to be over 30 degrees Celsius.
The contest is open to HWBOT members from all leagues. Combatants must use the custom HWBOT version of the RealBench app. A more complete listing of all the rules, limitations and scoring can be found here. Remember, prizes are awarded to the winners at the end of each Challenge, but don't forget that the main prizes on offer include next-generation ROG motherboards for the top three finishers.
Check out the second round of the ASUS ROG RealBench Challenge here on OC-ESPORTS
"This episode is a little different from what we have done in the past and if people like the concept we'll do a few more. Our idea was to find a way to record a Podcast but make it more YouTube friendly. What better way than to play a game and talk about stuff. For our first test Darren thought it would be fun to have Dennis sit down in front of Battlefield 1 Beta "Cold" and record his reactions to both the game and how well he could actually play. Given that Dennis hasn't played any Battlefield game since Bad Company 2 it seemed like a good idea at the time."
"There are two sections to this video. The first is the gameplay and voiceover which is about 15min. After that we finished the episode how we normally do with straight audio. In post I included some gameplay that was missing an audio track just to give everyone something to watch. Overall I think it turned out really good despite half of the screen being cut off and the gameplay audio being somewhat low. Let us know what you think."
Catch the full podcast from Hardware Asylum here.
In Week 39 of 2016, we received 4191 benchmark results from 1053 registered overclockers around the world. The majority of the submissions is coming from Rookie overclockers representing 58% of the active community. They were responsible for 41% of the submissions. We had a peek at the most valuable submissions in a breakdown per league.
To accommodate more results we simplified the overview table to contain three types of information. The Most Valuable Submission, based on WR + Global + Hardware points, is separated in a CPU and GPU benchmark section. The top hardware points remain the same, but are not included in one table. In the Elite category we find 3 golden cups, with one World Record. Dancop from Germany scored a Global First Place in the Cinebench R15 4xCPU ranking with a Core i7 6700K at 6616 MHz. His fellow countryman Der8auer scored an even greater golden cup with a World Record in Catzilla 1440P. His three GeForce TITAN X Pascal GPUs were clocked at 2088/2870 MHz. Last but not least we also find golden Dhenzjhen in the mix again. His GeForce GTX 580 Lightning graphics card clocks to 1550/1275 MHz and helped score first place in 3DMark Vantage Performance.
Congratulations to everyone making the table this week!
The overclocking results submitted during Week 39 generated in total 130 World Record Points, 5756.3 Global Points, and 7894.7 Hardware Points. The distribution per League is as follows: 26% for Elite, 25% for Extreme, 9% for Apprentice, 12% for Enthusiast, 9% for Novice, and 28% for Rookie. The representation of the active community is as follows: 3% Elite, 8% Extreme, 4% Apprentice, 16% Enthusiast, 11% Novice, and 58% Rookie.
Page 1