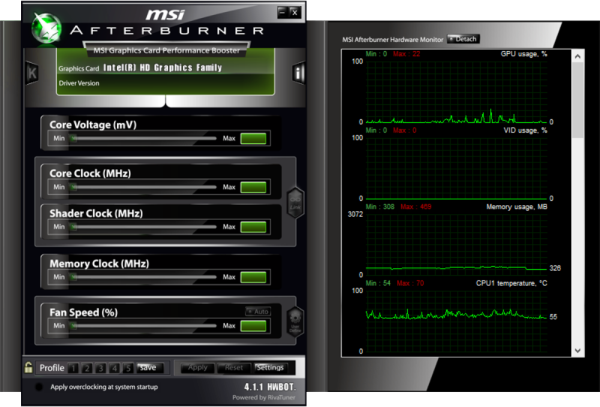 ABX HWBOT Edition Allows Extreme Tweaking on Legacy Graphics Cards
August 19, 2015 – HWBOT, an organization regulating international overclocking competitions and rankings is proud to announce the launch from MSI of the Afterburner Extreme HWBOT Edition, a software utility that allows extreme tweaking on a range of classic graphics card products.
MSI Afterburner has long established a reputation among enthusiasts and overclockers as the most powerful VGA overclocking utility, offering full control of your graphics card including detailed hardware overviews, custom fan profiles and more. MSI Afterburner Extreme takes things one step further allowing full control of voltages, facilitating seriously extreme overclocking at sub-zero temperatures.
Until today, Afterburner Extreme (ABX) was available only to Extreme and Elite Overclockers on HWBOT and supported only current generation graphics cards. The new ABX HWBOT Edition adds support to a range of older cards and will be available to all HWBOT members. This allows the overclocking community to revisit classic VGA cards armed with the ultimate tweaking utility.
"At MSI, we have been supporting HWBOT and the overclocking community for many years. MSI Lightning Graphic cards and XPOWER Motherboards are built with the very DNA of this community," commented Christopher Besse, MSI Marketing. "MSI Afterburner has been widely adopted by overclockers around the world, so it was only natural for us to ease the overclockers' life once again by releasing this new HWBOT version, allowing them enhanced voltage control for EOL products."
"We have been working with MSI for a very long time on supporting the overclocking community. When the first Lightning cards saw the light of day, it changed what we expect from overclocking-ready graphics card. With the legacy Afterburner, we can now enjoy pushing those legendary graphics cards again," commented Pieter-Jan Plaisier, Director at HWBOT.
MSI Afterburner Extreme – HWBOT Edition: Supported Cards
NVIDIA:
N460GTX Hawk
N480GTX Lightning
N560GTX Ti Hawk
N580GTX Lightning
N660GTX Hawk
N680GTX Lightning
AMD:
R5870 Lightning
R6870 Hawk
R6970 Lightning
R7870 Hawk
R7970 Lightning
You can download the MSI Afterburner Extreme – HWBOT Edition here. Note that you should use the extended database. Also, in case you want to control the shader clock on older Nvidia graphics cards: use "old skin"(select in skin option).
Update August 21, 2015 – Two days after sharing this fantastic news with you we received an email from the MSI AfterBurner Copyright and Distribution Right owner, Guru3D.com, demanding we take down the download as it is in violation with the rights. We learned that even though the Afterburner software carries the MSI branding, the right of distribution is reserved by Guru3D.com. Private or custom versions of Afterburner like the HWBOT for Classic VGA Cards, but also the ones personalized for extreme overclockers, are contractually bound to be unavailable to the public by the owner of the distribution rights. To comply with the demands of the owner of the MSI Afterburner Copyright and Distribution Right we removed the download link from this article.
If you have any questions regarding the MSI Afterburner Extreme HWBOT Edition, or any other enquiries please contact us at: contact@hwbot.org.