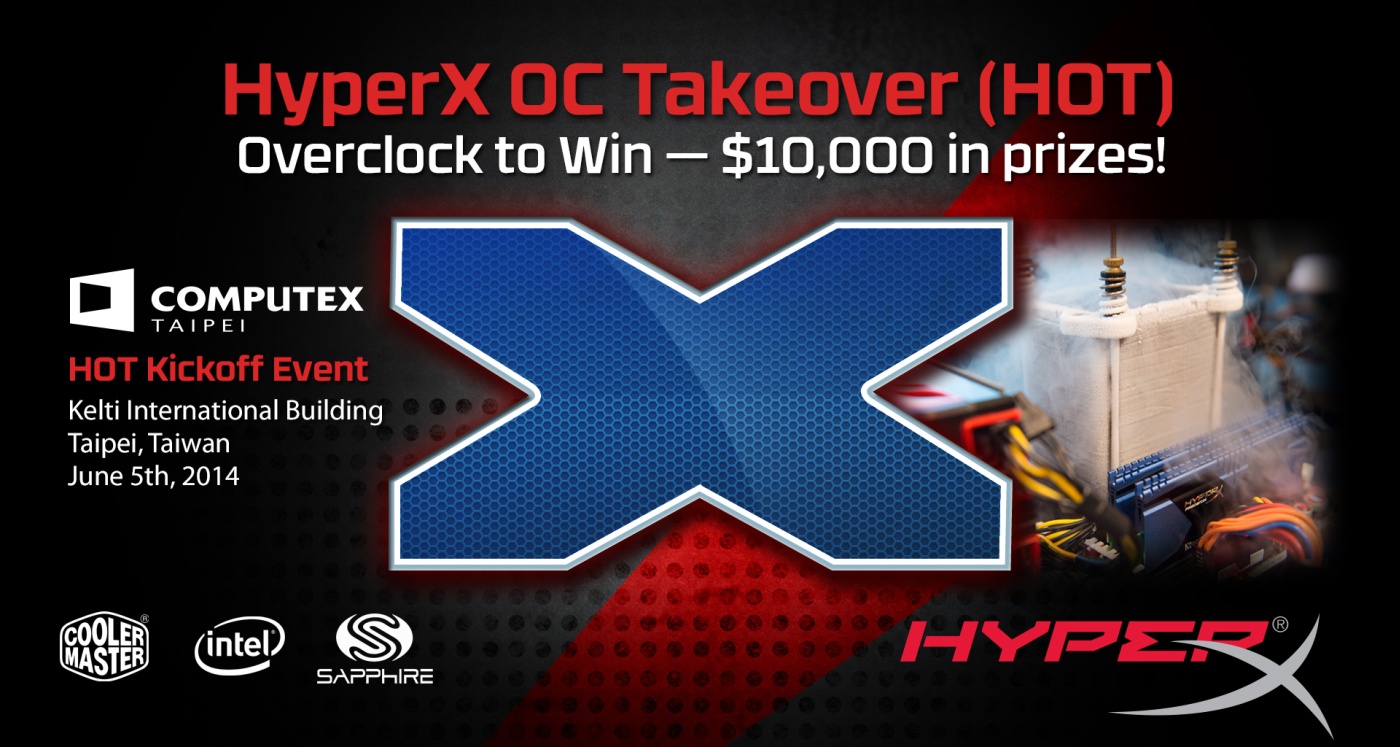 During Computex 2014 HyperX will kick off the HyperX OC Takeover (HOT) 2014 campaign with a USD $10,000 invitation-only overclocking event. On June 5th, six community overclocking teams will compete against four industry teams in three different benchmarks: XTU, Memory Clock and SuperPI 32M. The cash prize purse is divided amongst the top-3 of each benchmark and varies between USD $2,000 for the top memory frequency and USD $500 for the second runner-up in the XTU category.
Following the kickoff event at Computex, HOT will start a four month-long qualification campaign featuring regional online qualifiers. The campaign starts in July in Latin-America. A total of 10 finalists (double compared to last year!) and the winner of last year's competition will proceed to the HOT World Finals where they will compete for a USD $15,000 prize pool.
We will keep you updated on the details of the HyperX OC Takeover Qualification process. For now, join us at the HOT Kickoff Event on June 5th. You can follow the results on the competition page at HWBOT. You can find the full press release at Kingston.com/hyperx.
Prizes
| | | | |
| --- | --- | --- | --- |
| | Memory Freq. | SuperPi 32M | XTU w/ secret CPU |
| First place | USD $2000 | USD $1500 | USD $1000 |
| Second place | USD $1500 | USD $1000 | USD $750 |
| Third place | USD $1000 | USD $750 | USD $500 |
Event Organization
Kingston Technology, the world's largest independent manufacturer of memory products, created the HyperX brand to deliver products that meet the high-performance needs of technology enthusiasts, gamers, content creators and system builders. From 100-percent factory-tested memory modules and solid-state drives to the fastest and biggest USB Flash drives and cooling fans, Kingston HyperX has been meeting and exceeding the most stringent performance, build quality and style demands for more than a decade.

Intel is a world leader in computing innovation. The company designs and builds the essential technologies that serve as the foundation for the world's computing devices. The company's platforms are used in a range of applications, such as personal computers (PCs) (including Ultrabook systems), data centers, tablets, smartphones, automobiles, automated factory systems and medical devices.

Cooler Master was founded to provide the best thermal solutions to its customers worldwide. Since its establishment two decades ago, it continues to invest in product development in order to provide the leading-edge innovations to people and businesses. Cooler Master's enclosure technology line-up includes heat sinks and fans, chassis, power supplies, function panels and accessories. Cooler Master has its headquarters in Taipei, Taiwan, with global branch offices located in Europe, America and APAC, so that it can offer to its customers the best service in time. For more information on Cooler Master, please visit coolermaster-usa.com and Cooler Master Americas Facebook Fan Page.